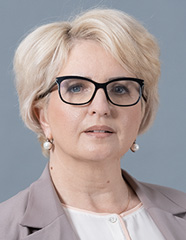 Science degree:

Doctor of Pedagogical Sciences

Science title:

Professor

Position:

vice-rector for academic affairs
195221, Saint-Petersburg, Polytechnicheskaya str., 29, Academic Building No 1, 213
In 1988 she graduated from the Department of Physics and Mathematics of Aktyubinsk Pedagogical Institute in the major "Mathematics". In 2006 she completed her doctoral thesis (theory and methodology of professional education) and in 2007 she was awarded the title of Professor of information technology.
Since 1995 Elena Razinkina has been a University lecturer. From 2009 to 2014 she worked as a Vice-Rector for academic affairs of Magnitogorsk State Technical University. From June 2014 she has been an Assistant to SPbPU Rector; in December 2014 she was appointed Vice-Rector for educational activities.
Management system of higher education and information technologies in education are in the area of expertise of Elena Razinkina. She is the author of over 90 scientific publications, five monographs and six software invention certificates. She is an accredited expert of the Federal Education and Science Supervision Agency in the field of education and is a member of the Guild of experts in the field of vocational education.