Webinar for Polytech international students Study for free at Polytech in 2023 (Master and PhD programs)
Education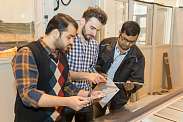 Start:
2 November 2022
Other information:
Start: 2 November 2022 Language: Russian
Start: 3 November 2022 Language: English
Time: 16.00 (Moscow time)
Venue: Online Zoom meeting
Our information will be interesting to both contract and budget students, currently studying in the 4th year of your Bachelor's degree or 2nd year of your Master's degree and planning to continue your studies at our university then
Did you know that you can enroll on a Master's and PhD programs at the Polytech and study for free next year? SPbPU offers you to use 2 options:
On November 2 and 3, the SPbPU International students department will hold webinars to explain what you need to do to enroll on the Master's degree and PhD programs and continue to study for free in Polytech.
Join the webinars and find out:
How to apply for the government and Open Doors scholarship
How to register and prepare your portfolio
What are the stages of the selection process
What are the application deadlines and requirements
During the webinars you will be able to ask further questions directly to the Admission managers.
Join us not to miss important information: