Rector`s Foreword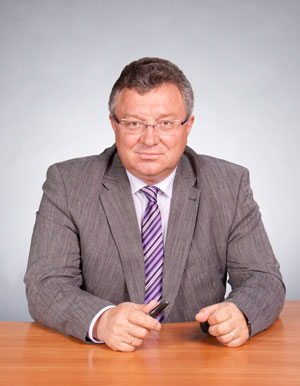 This year Peter the Great St. Petersburg Polytechnic University (SPbPU) has crossed the 122-year milestone. This impressive date cannot but stir a feeling of respect and obligation. From the very beginning, highly qualified engineers prepared to work in different industrial spheres completed their education at the University. Today, this mindset still remains a priority. The curriculum has undergone qualitative changes. Our world is changing rapidly nowadays. Russia is facing an urgent need to form a new type of economy, i.e. the economy of knowledge, leadership and innovation which is based on integrating education, science and industry. The expected result of such integration is the emergence of new competitive products demanded on the world market, which will help Russia to take its rightful place on the global economic stage. The system of higher education plays a key role in this respect resulting in training of highly qualified specialists, as well as being a source of new technologies and innovative developments.
Today, the efforts of our several thousand staff are aimed at developing and modernizing SPbPU as a university of a new type, i.e. a leader in multidisciplinary scientific research, pan-industry technologies and world-class science-based innovations. The University does its best so that our students can receive a top class professional education and live a life full of interesting and important events.
One of our main objectives is to train world-class specialists capable of working on cutting-edge production lines combining research, project and business activities. At the present moment we provide best quality educational services. The educational system of the University has been completely reorganized. Firstly, the new international curricula in Russian and English language have been developed and introduced in co-operation with the leading foreign universities. Secondly, we are currently testing and introducing practice-oriented applied bachelor's degree programs including interdisciplinary project work of our students based on CDIO concept and involving our technological and industrial partners in the process of education. An applied bachelor degree together with a university degree enables our graduates to obtain a full set of skills and expertise necessary to start working in their major fields immediately and without any additional on-site training. Thus, the system of training "brand-new" specialists is brought to life and help them to overcome challenges of modern industry and to adapt to the conditions of the real economy.
Our University offers our students great opportunities for self-fulfillment and practical activity. Due to the effective system of international educational partnership with a range of foreign universities, our students have a chance to get a degree from the foreign partner university together with our own. Therefore, our mission is to create and enhance human capital in order to ensure sustainable development and economic prosperity of Russia.
At present we are forming a new image of the Polytechnic University; a new type of university, university of the 21st century. All positive changes that SPbPU have undergone in the recent years testify that it is ready to take its place among the top-ranking universities, taking into account its history, continuance of traditions, as well as present-day results and achievements in the sphere of science, education and innovation. I am sure that the reorganization taken place in the field of our structural, scientific and educational policy with an emphasis on the "Russian Academic Excellence Project 5-100" will help the University to become a high-tech test ground for the domestic industry, i.e. scientific and educational centre of leadership and world-class competence!
Academician of the Russian Academy of Sciences
Rector of SPbPU, Professor A.I. Rudskoi