POLYTECH OPEN DAY 2023
Education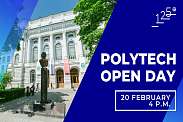 POLYTECH OPEN 2023 will give you an opportunity to learn more about our University and see everything that it has to offer. It's the best way to find out what it's really like to study with us at Polytech!
get to know the key facts about SPbPU
check out the accommodation and the facilities info
learn more about our programs
get our step-by-step instructions for application
meet the university authorities — Vice-Rector for International Affairs, program coordinators and admission managers
listen to our students' testimonials and student support service greeting
... and learn everything you need to know about Bachelor's, Master's, and PhD degree programs in English and Russian!
Learn all the details directly from the leading technical University in Russia — Polytechnic University representatives and get a chance to study engineering, natural sciences, IT, physics, business or economics in Russia's leading technical university for free!
Celebrate POLYTECH OPEN 2023 with us on the online meeting
February 20, 2023, 16:00 (Moscow time)
Click here to learn more on our web-site