General Information
Science & Research
Review of R&D at SPbPU: Academic and Industrial Partnership
Review of R&D at SPbPU: Academic and Industrial Partnership
Peter the Great St. Petersburg Polytechnic University aims at creating science-driven, technological and innovative environment based on partnership links and enabling to unite the participants' potential to set relevant objectives and respond to global challenges.
In 2013, Peter the Great St. Petersburg Polytechnic University was the winner of the Russian Academic Excellence Project 5-100 from among 14 other universities. The goal of the project is to maximize the competitive position of a group of leading Russian universities in the global research and educational market.
Among the academic partners of SPbPU are 250 universities in 47 countries. Internationalization is a key priority of SPbPU: there are cooperation agreements all over the world for research and teaching as well as for student exchanges. The total number of international programs is 100, including 22 double degree programs and 4 joint Doctorate programs. Some 4,500 students of the approximately 26,000 students come to SPbPU from abroad.
International activity has culminated in increasing the position in the international rankings. Thus, in 2015, SPbPU was ranked 201–250 in the Times Higher Education World University Rankings, taking first position among Russian technical universities.
SPbPU develops strategic partnership with a number of world-leading universities, such as: Tsinghua University, Zhejiang University, Leibniz Universität Hannover, Universität Stuttgart, Technische Universität Berlin, Technische Universität Graz, Politecnica de Valencia, Politecnico di Milano, Lappeenranta University of Technology, City University London.
Within strategic partnership the universities support the following activities with involvement of all university units: international academic mobility, visiting professors and guest speakers, international joint Master's degree and PhD programs, joint research projects with industry, joint publications in international editions, joint workshops and conferences, international summer and winter schools, joint R&E centers and labs with involvement of global companies, international joint research laboratories.
SPbPU is a member of the various international associations. The best practice is the WC2 University Network (World Class Universities in World Cities). The WC2 University Network has been developed with the goal of bringing together top universities located in the heart of major world cities in order to address cultural, environmental and political issues of common interest to world cities and their universities. Within the WC2 University Network joint student projects and academic exchanges are carried out.
SPbPU welcomes cooperation with academic and industrial partners and is eager and willing to develop joint projects aimed at solving technological and research tasks as well the ones in interdisciplinary fields. Such cooperation can be implemented within the frameworks of either specialized contract or long-term general agreement. Synergetic effect is achieved on the conditions of mutually beneficial, equal and effective cooperation of the Polytechnic University with academic and industrial partners both from Russia and from other countries.
Support programs for young scientists presuppose partnerships for implementing experimental and research work of Master Degree, PhD students and Postdocs carried out within the frameworks of those partnerships and in the required by the partner themes and directions.
SPbPU implements complex cooperation with industrial companies via the system of International scientific and educational centers (ISEC), established within SPbPU jointly with the relevant industrial partner. The structure of an IREC can include scientific and educational components. It allows creating specialized laboratories, carry out contract research and organize educational programmes and trainings.
We invite our partners to participate in all kinds of the SPbPU events – scientific seminars, conferences, Week of Science, FabLabPicnik.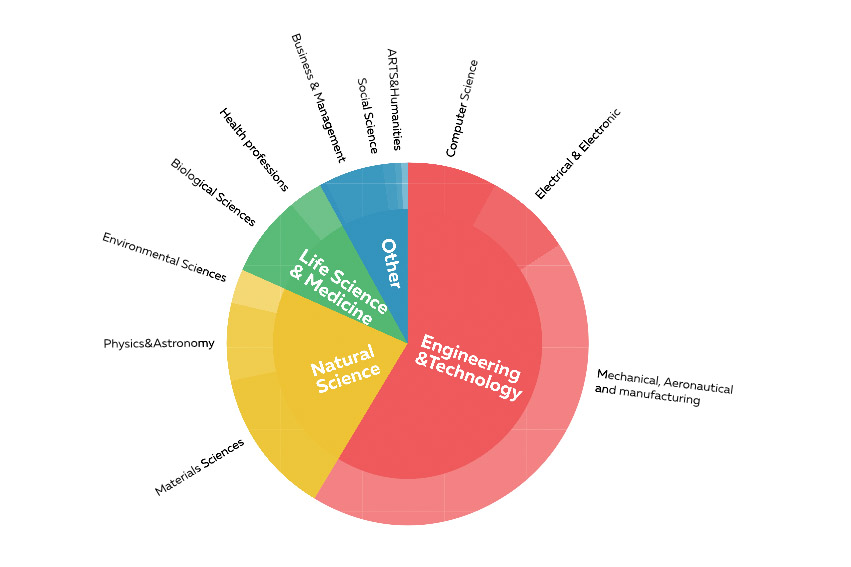 Research at the Polytechnic University is focused on finding innovative solutions to the most important problems in science, engineering and technology:
Nuclear physics, condensed matter physics, plasma physics and controlled thermonuclear fusion, radio physics and electronics, physical and chemical bases of the organization of biological systems, biophysics, bioinformatics, medical physics and engineering, physical chemistry, space exploration
Physical and technical problems of power engineering, nature resource management, urban management systems.
Computer science, management and cybernetics, robotics, telecommunications systems.
Mechanics, construction materials, nanomaterials and nanotechnologies, physical and chemical basis of metallurgical processes.
Economics and management of national economy, the world economy, finance, social and economic systems.
Social philosophy, philosophy and history of science and technology, history and methodology of political science, theory of law and state.
The main tasks of research and development are the following: to organize and conduct research, design, information, analytical, scientific, educational and other activities in the major prospective fields of science, engineering and technology for the development of:
advanced materials, sophisticated composite materials and structures, nanomaterials and nanotechnologies;
radio-physical and electronic systems and devices;
supercomputer technologies;- energy-efficient technologies;
telecommunication technologies;
production technology of devices, machines and structures;
micro-electromechanical and mechatronic systems and robotics;
hardware and software for information security;
bio- and medical technologies.
International scientific cooperation is the basis to an interaction between University and the industrial partners as well as the world academic community.
Various contract and project work in collaboration with leading research centers, cooperation with technology companies, exchange of information, the implementation of studies commissioned by foreign partners allows researchers and professors of the University to be at the forefront of the development of science and technology, to be competitive, to improve knowledge and experience, to relate scientific activity with the demands of the global high-tech market.
Within the implementation of international scientific cooperation Peter the Great Polytechnic University deem appropriate to pay attention to international collaboration:
Searching for foreign partners in order to conduct the contract and project activities;
Creating consortia to participate in international projects;
Conduct of negotiations, cooperation with foreign companies in order to strengthen the mutually beneficial cooperation;
Fundraising for research activities.
For all questions concerning cooperation with foreign companies and scientific organizations, please contact us by e-mail or by phone