Peter the Great St. Petersburg Polytechnic University has been Recognized as One of the Best European Universities
Peter the Great St. Petersburg Polytechnic University has been Recognized as One of the Best European Universities
On 10 March, the British magazine Times Higher Education (THE) published the 200 best European universities of 2016. Peter the Great St. Petersburg Polytechnic University appeared in the best European university rankings and was rated 113th out 200 positions on the list.
Apart from our university, the rankings include four more Russian universities. The highest position was taken by Lomonosov Moscow State University (MSU), which is ranked 79th. MSU and SPbPU are followed by Tomsk Polytechnic University (rated 136), Kazan Federal University (rated 152), and National Research Nuclear University MEPhI (rated 164). It should be noted that the leading places are traditionally taken by British universities – Oxford and Cambridge Universities and also Imperial College London. British universities dominate the rankings; there are 46 of them. The second in the number of universities is Germany (36 universities).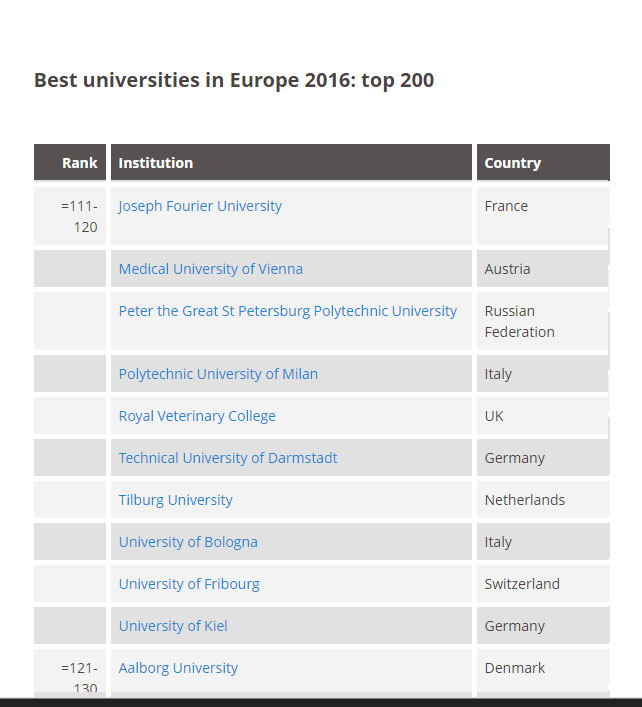 "Certainly, nowadays world rankings are a part of a common process of Higher School development in many countries, and there is no doubt that they help universities to move to a new level. Equivalents to the Project 5-100 - international academic excellence initiative - have been developed and launched not only in Russia, but in China, France, Japan, and other countries. In recent years, Polytech has shown positive dynamics in world rankings. We are making systematic efforts to improve the indices which are taken into account in the methodology of world rankings – raising the number of publications and citations, increasing the number of international students and professors, enhancing academic reputation among employers – and therefore, the task of reaching even higher positions in rankings is accomplishable for us," – said SPbPU Rector A.I. RUDSKOY.
Media Center, SPbPU
Print version