Head of the Presidential Academic Policy Department I. P. Bilenkina Visited SPbPU
On February 8, Head of the Presidential Academic Policy Department I. P. Bilenkina paid a business visit to Peter the Great St. Petersburg Polytechnic University.
During the meeting, the administration of the Polytechnic University – Rector A. I. Ridskoy, Vice-Rector for Academic Affairs E. M. Razinkina, Vice-Rector N.V. Pankova – and I.P.Bilenkina discussed promising directions in the development of Russian science, educational methods applied at SPbPU, and new opportunities that emerged after the St. Petersburg State University of Trade and Economics had merged with SPbPU.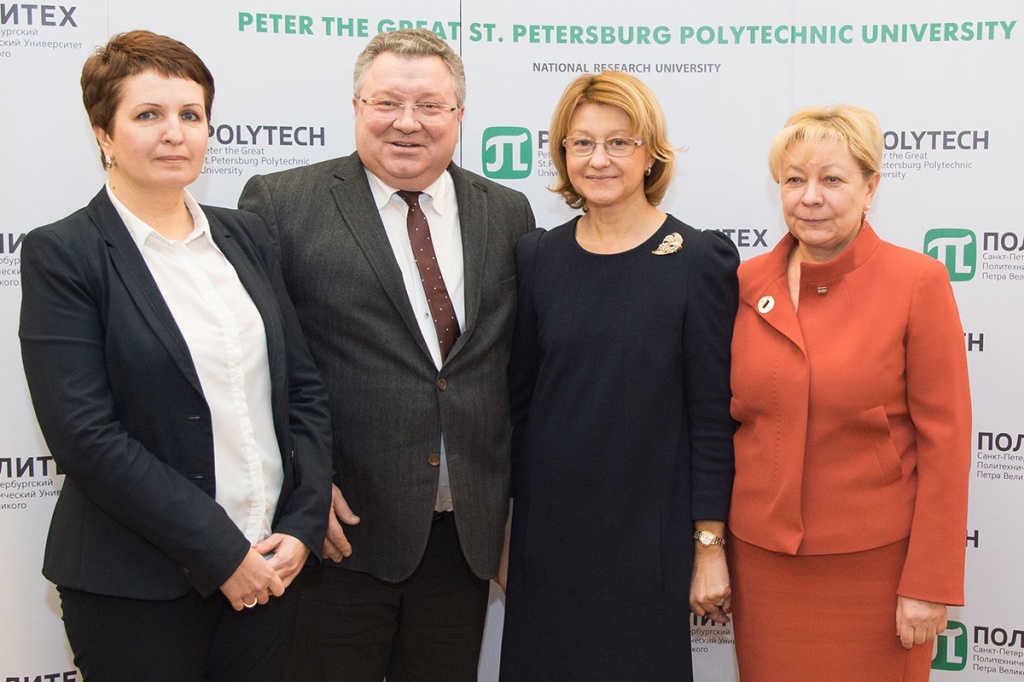 Head of the Presidential Academic Policy Department Inna Petrtovna Bilenkina commented on the results of the meeting to the correspondent of the Media Center.
- Inna Petrovna, it is symbolic that you visited our university on the day when members of the scientific community celebrate their professional holiday.
- Indeed, today is a big day for all scientists, students, and postgraduates – the Russian Science Day. It is these people who make our country a scientific power. Few countries have such status. When people say Russia, science comes to mind right away, be it aerospace or nuclear power engineering. It is all due to such universities as SPbPU.
- Thank you for the appreciation of our university! Today, however, SPbPU aims to take a leading position not only in Russia, but on the international academic stage as well.
- Our country sees the true value of the Polytechnic university: first, its graduates are renowned scientists and professors, and second, SPbPU is a research university. Only 29 universities in Russia hold this title. The recent merge with the University of Trade and Economics opens new possibilities.
Russia is a scientific power, and we have to apply the developments in mathematics, chemistry, and biology to increase the quality of life of Russian people. We need to put a lot of effort into these fields, so that our scientists would be able to transfer their developments to the industry.
- What can you say about the educational policy of SPbPU?
- The educational methods of the Polytechnic University afford limitless opportunities. The status of a research university allows SPbPU to train experts according to their own educational standards.
This allows dynamic implementation of the most advanced, innovative, and essential methods in the education process. Today, priority directions in the development of science are associated with increasing the quality of life, energy independence, and environmental safety. In this regard, the Polytechnic University offers strong scholarly traditions, teaching staff, and, last but not least, students. Only the most talented school leavers make it to SPbPU. I believe this trend will remain.
Media Center, SPbPU
Print version