Digest of news from the SPbPU Representative Office in Shanghai: Spring and Summer 2023
Digest of news from the SPbPU Representative Office in Shanghai: Spring and Summer 2023
The spring and summer of 2023 were quite fruitful for the Representative Office. SPbPU signed a number of important agreements with Chinese universities, took part in international exhibitions and conferences.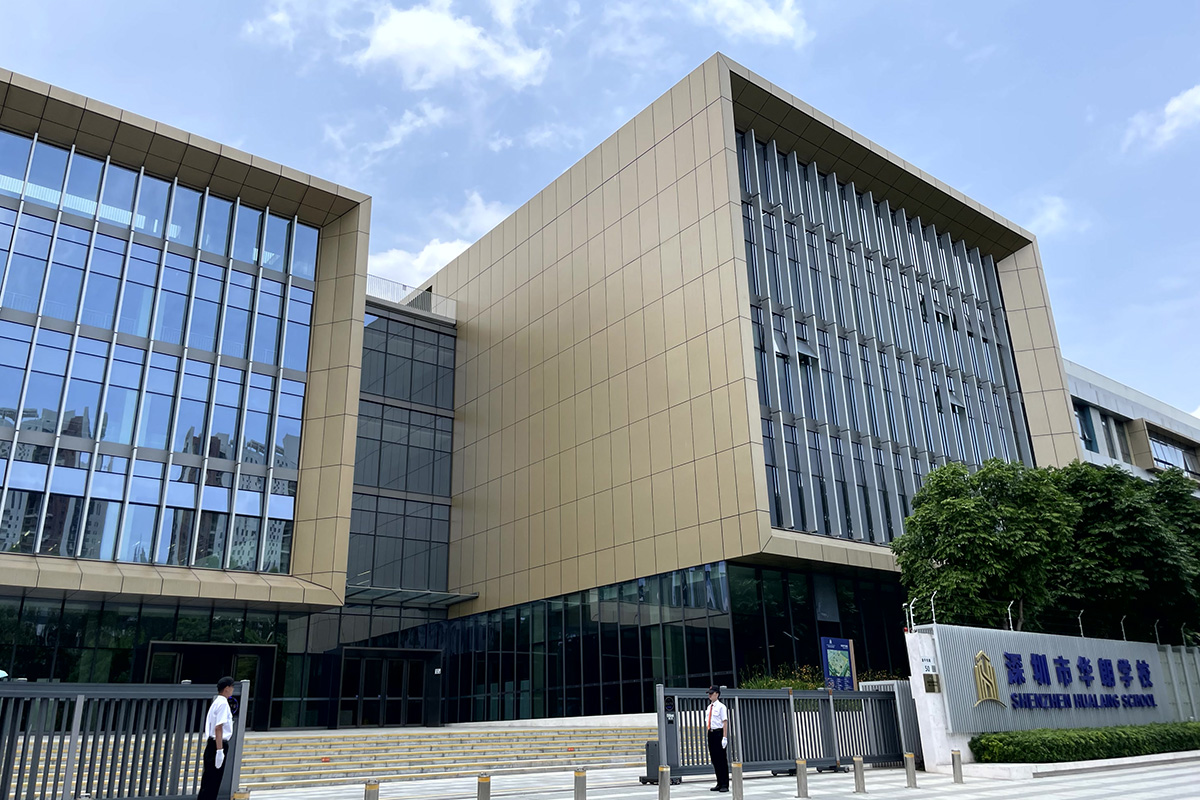 Visit of the Rector of Shandong Transportation University to SPbPU
On May 24, a delegation from Shandong University of Transport headed by Rector Chen Sunyang visited Polytechnic. The parties discussed the development of cooperation in educational and scientific-technological fields. The joint work of the universities began in 2018, when graduates of ShTU preparatory courses began to enroll in different general education programs of SPbPU. During the talks, the heads of the parties presented basic information about the universities and expressed their intentions to develop a more in-depth partnership. They signed a cooperation agreement, within the framework of which the following areas are planned to be implemented: student exchange, organization of common events, internships for Chinese students at SPbPU, and also discussed joint participation in international competitions and grants.
Exhibitions and conferences
21st Chinese International Talent Exchange Conference
On April 15, the SPbPU Representative Office in Shanghai took part in the 21st China International Talent Exchange Conference organized by the Ministry of Science and Technology and the People's Government of Shenzhen. This national exhibition is also a negotiation event on international scientific and technological innovation and talent exchange, in which Polytech participates annually. More than 948 institutions and organizations, nearly 10,000 representatives, experts, scholars and high-end talents gathered to discuss topics on intellectual property, talent exchange programs and science and technology innovation projects. More than 100 foreign organizations, educational institutions, higher education institutions, research institutes and science and technology enterprises shared their ideas and achievements with each other. The Shanghai representative office of SPbPU took part in the exhibition on behalf of the university in the cities of Wuhan, Shenzhen and Yantai. This is a great opportunity to find new Chinese partners. SPbPU projects were presented to the participating companies. As a result of the negotiations, the SPbPU brand together with scientific projects gets the development of a partner network, which gives new opportunities in the Chinese market.
11th Shaanxi Provincial Higher Education Exhibition
From June 24 to 26, Joint Polytechnic Institute of Xi'an University of Technology (XU) and Peter the Great St. Petersburg Polytechnic University participated in the 11th Shaanxi Provincial Higher Education Exhibition. The exhibition was organized by the Department of Education of the Shaanxi Provincial Government at the Xi'an International Exhibition Center. Within the framework of the exhibition there were thematic sessions devoted to the achievements of science, technology and innovation, discussed cooperation between STU and SPbPU, as well as held a counseling event on enrollment in the Joint Institute. Recall that the Joint Institute implements three bachelor's degree specializations: materials science and technology, mechanical production processes, power engineering and electrical engineering. After completing their studies and successfully defending their final qualification work, students can receive a bachelor's degree from Xi'an University of Technology and a bachelor's degree from SPbPU.
Polytechnic joined the Jiangsu Province International Innovation Cooperation Network at the 2nd Jiangsu Conference on Industry-University Cooperation and Exchange.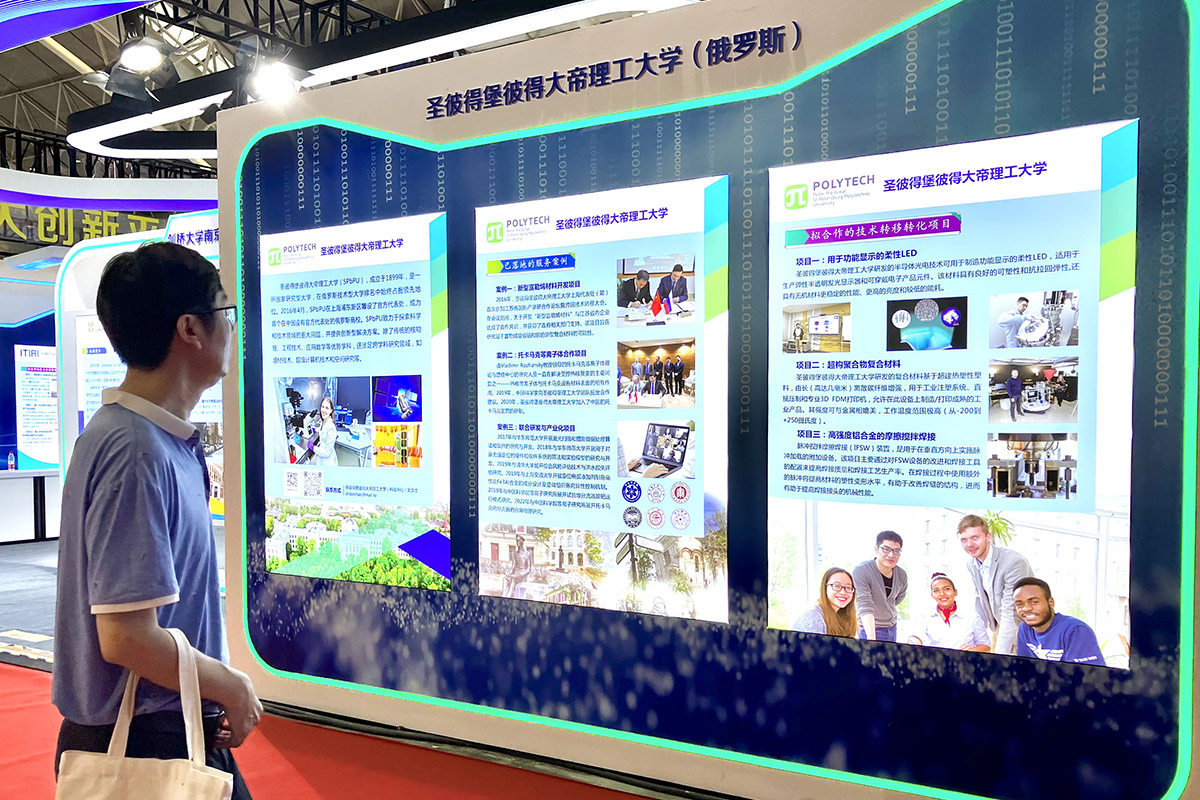 Polytechnic was the guest of honor and participated in the conference as a renowned educational and research institution. At its exhibition stand, SPbPU presented technological projects in the field of new materials, environmental management and clean energy, solutions for creating cities of the future and digital transformation of industry. According to the results of the conference, a number of high-tech companies from Jiangsu Province in the field of flexible LEDs, new materials and artificial intelligence showed interest in Polytechnic's projects. It is planned to organize separate negotiations in online format at the request of Chinese companies.
Polytechnic University develops cooperation with technical colleges in Shandong Province
BinZhou Polytechnic College of Vocational Education (BinZhou Polytechnic)
The college was founded in July 2001 by the merger of the former Binzhou Agricultural School, School of Public Health, School of Economics, School of Industry, Urban Agricultural Institute. It has 66 years of history and is located in Shandong Province. At this time, the college is ranked among the «200 high quality higher professional colleges and universities in China». BinZhou includes 15 second-level colleges. More than 23,000 students are trained in nearly 50 majors in the following fields: bioengineering, construction, medical technology, chemical industry, and economics. In order to improve the level of education, the college actively develops international cooperation. After negotiations with the college management, SPbPU is facing the task of creating a joint bachelor's degree program «3+2». This project assumes that after receiving secondary specialized education, graduates of the college can enter SPbPU for a bachelor's degree in the agreed specialty.
Lubei College of Technology
Lubei College of Technology is an aviation vocational college of Binzhou, it has 10 teaching faculties in 32 specialties. The college has about 7,500 students. It graduates more than 2,400 students every year. More than 8,000 more are undergoing the training program. SPbPU held negotiations with representatives of the National Key Technical College, as a result of which it is planned to exchange students for internships at Polytechnic in the Winter and Summer School programs, as well as the possibility of participation of college teachers in SPbPU seminars, and, in the future, the implementation of joint educational projects.
Webinars to promote SPbPU research projects
Webinars with presentations of SPbPU projects for industrial companies in Jiangsu Province have become traditional. On April 18, a webinar on project promotion in JITRI (Jiangsu Industrial Technology Research Institute) was held. Seven scientific and technical projects of SPbPU were presented at the webinar, which was attended by representatives of research institutes, companies, university professors and JITRI scientists. The webinar was followed by talks with the Chinese company USV, which specializes in smart technologies. On May 25, Wang Huigang, director of USV, and representatives of SPbPU discussed opportunities for cooperation in the research field of high-tech developments.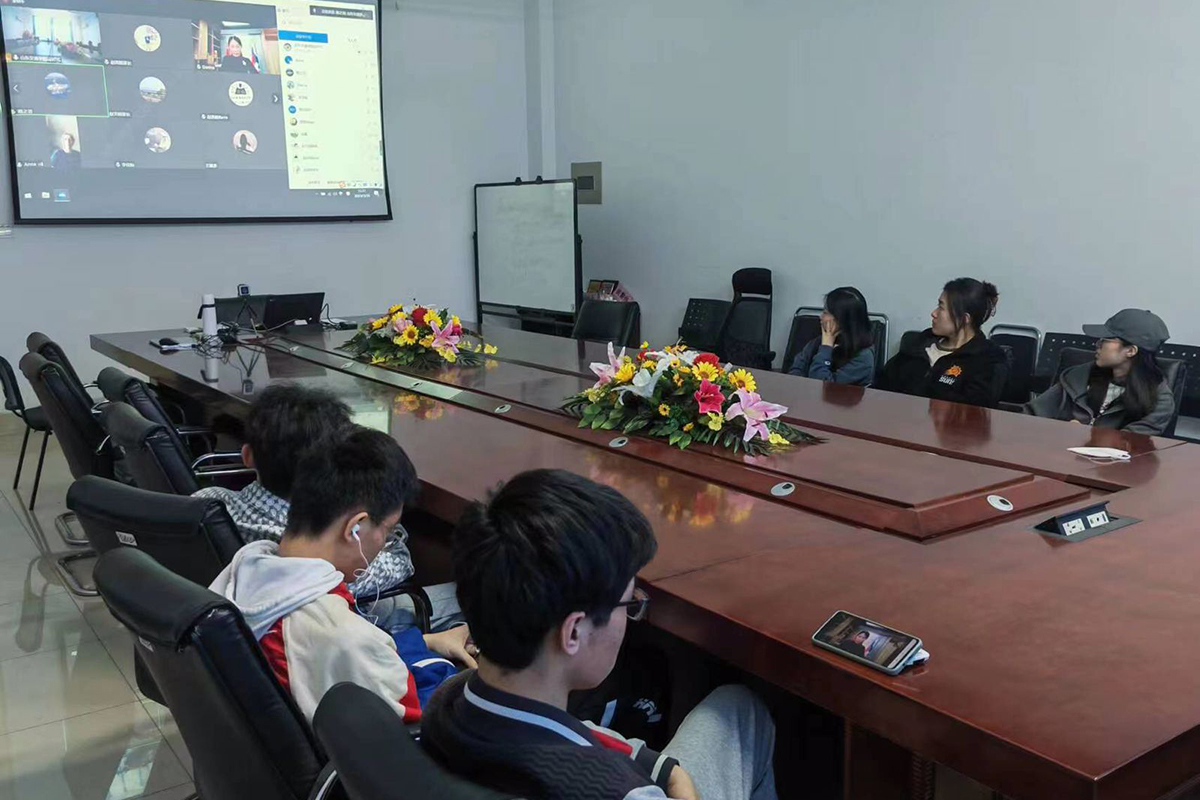 «SPbPU Open Doors Day» was held at the STU office in Shanghai
SPbPU holds an annual open day at Shanghai Transport University for students and professors. The goal is to attract students to SPbPU educational programs. The visitors got acquainted with Polytechnic: they watched a video about the university in Chinese and presentations about the main educational programs. Winter and Summer Schools are very popular among Chinese students. An important stage of the event was the communication between the STU audience and SPbPU students, where Chinese students told about their studies and life in St. Petersburg. This kind of communication is always very lively, because it is interesting to hear the opinions and stories of students who are already studying abroad.
A number of negotiations with Chinese companies
In June, the Shanghai office organized a video conference with representatives of SPbPU and SINOPEC Shanghai Research Institute. SINOPEC is a large Chinese petrochemical corporation (Sinopec Group). The participants of the meeting were Oleg Tolochko, Professor of SPbPU, Doctor of Technical Sciences, and Sergey Antonov, Head of the Department of International Scientific and Foreign Economic Relations. During the meeting, presentations of technologies related to carbon nanomaterials, biomedical materials, etc. were made. This meeting was organized to search for possible joint research and participation in international grant programs.
Within the framework of participation in the Contest of International Scientific and Technical Cooperation Projects in Shandong Province, SPbPU Representative Office in Shanghai held a working meeting with Shandong University of Architecture and Shandong GRAD Group Co. Ltd. As a result of negotiations, the parties applied for participation in the project «Development of membrane technologies for seawater desalination and organic matter separation devices». The project envisages joint work of specialists from Chinese and Russian institutes at Chinese enterprises and is designed for 3 years.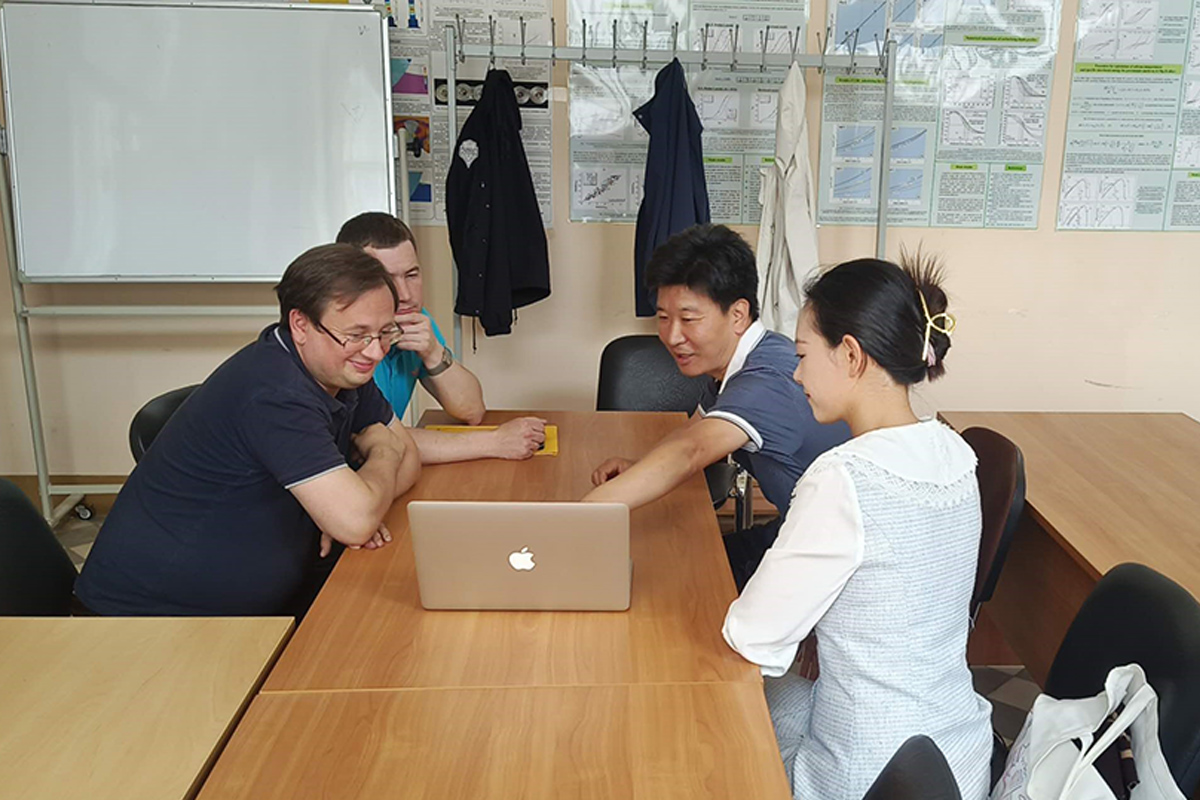 The Representative Office also organized a professional-technical experience exchange meeting between Professor Nan Wang from Northwestern Polytechnic University and the staff of the Laboratory of Lightweight Materials and Structures of SPbPU. Prof. Nan visited the Laboratories of Lightweight Materials and Structures. The colleagues found many common points of contact in research work, which gives an opportunity for joint publication of articles and development of international cooperation in these areas between universities.
The Representative Office also held negotiations with Mr. Zhao Xin, Deputy Director General of the LUNJIANG Road and Bridge Construction Corporation. The Corporation is interested in investing in international projects and at this meeting the parties got acquainted with each other's activities. The representative office showed SPbPU projects in the field of nanoconcrete, 3D construction projects, etc. Deputy General Manager Zhao Xin said that their company needs innovative technologies as well as technologies related to 3D construction. LUNJIAN is actively looking for possible partners, including those from Russia. This direction is interesting for SPbPU as a new stage of long-term cooperation with Chinese organizations.
The International Polytechnic School is of great interest to Chinese students
Every season SPbPU representative office sends groups of students from universities and colleges of China: bachelors, masters and postgraduates. The training of participants takes place in online and offline formats. Thanks to participation in such programs, students improve their knowledge in their fields, while the offline format allows them to learn a lot about Russian education. In 2023, the following areas attracted great interest: smart manufacturing and digital future, machine learning: theory and application, cross-cultural communication and research. Students, after successful training, receive certificates of completion of the program with ETS credits, which gives them the opportunity to retake the studied course as part of their main educational program.
Print version