More than 50 RAU students attended lectures by SPbPU biophysicists and neurobiologists
More than 50 RAU students attended lectures by SPbPU biophysicists and neurobiologists
More than 50 students of the Russian-Armenian University (RAU) attended lectures by SPbPU experts on modern natural science and neurobiology. Olga Vlasova, Director of the Higher School of Biomedical Systems and Technologies at the Institute of Biomedical Systems and Biotechnology (IBS&B SPbPU), and Elena Popugaeva, Senior Researcher at the Laboratory of Molecular Neurodegeneration (LMN) at SPbPU, held open lectures at RAU, which were met with great interest by the students.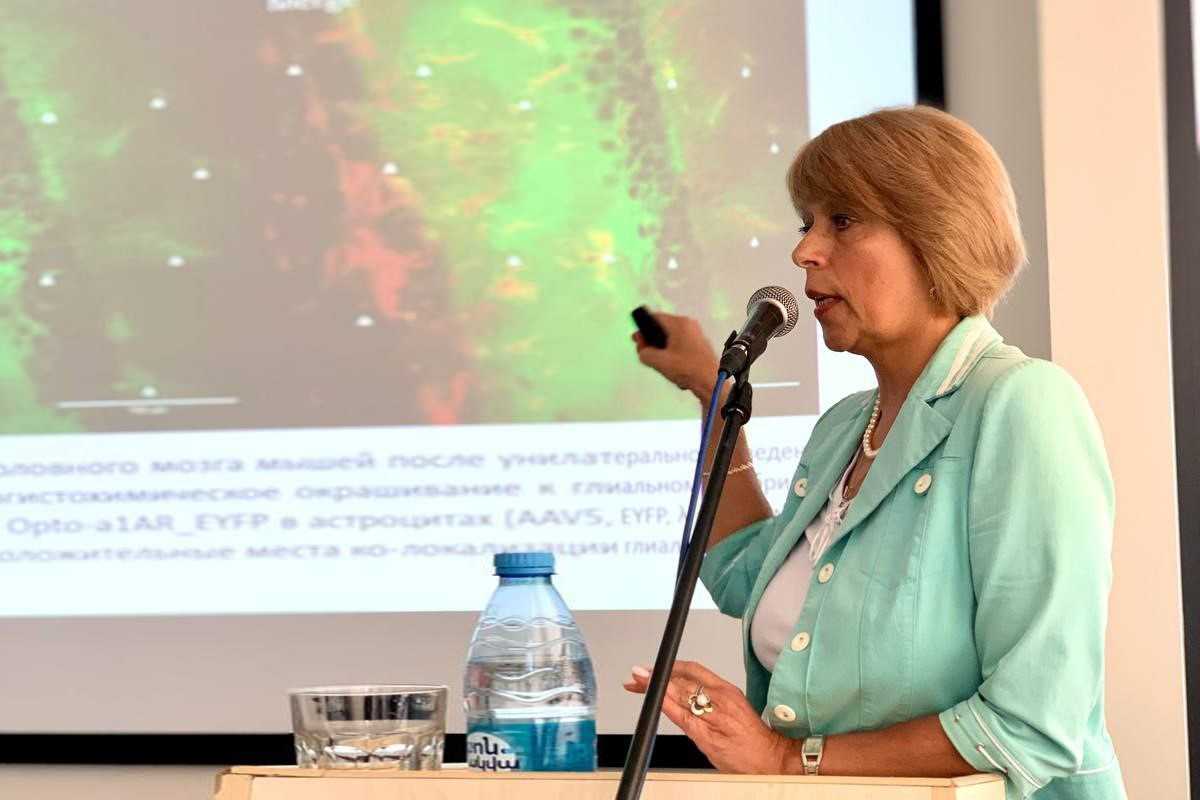 The topics of scientific reports by SPbPU representatives were some of the most topical problems in the field of natural sciences: «The role of astroglia in the regulation of neuronal network activity in transgenic mice with Alzheimer's disease model according to optogenetics, electrophysiology and behavioral data» and «Pharmacological correction of synaptic dysfunction in hippocampal neurons as a promising approach to the treatment of Alzheimer's disease».
SPbPU experts give lectures at the RAU on a regular basis. Olga Vlasova first gave a course of lectures at the Russian-Armenian University six years ago. Then the cooperation between neurophysicists and neurobiologists reached the level of development of joint educational and scientific projects. RAU is distinguished by a well-developed bioinformatics school. These are the competencies that are important for the successful promotion of the work that is carried out in the Laboratory of Molecular Neurodegeneration for the practical implementation of targeted therapy for neurodegenerative diseases.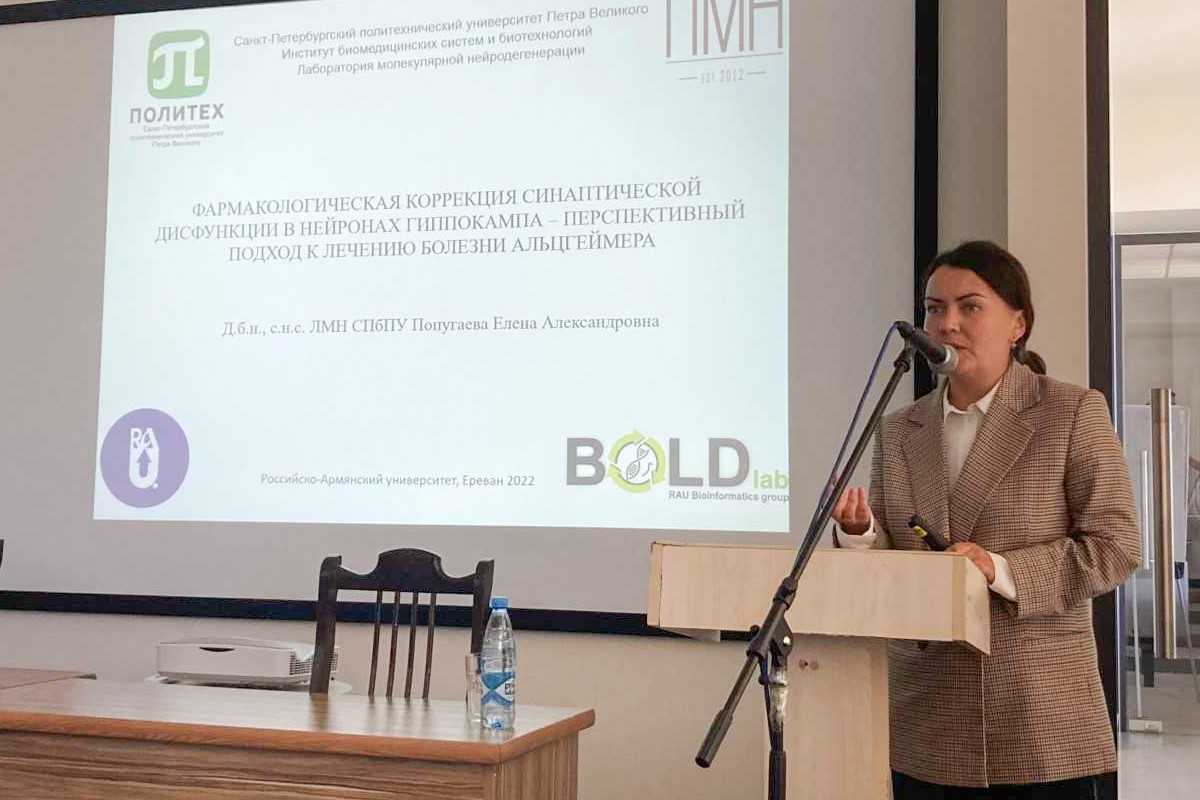 Over the past few years, SPbPU scientists have been actively cooperating with the Laboratory of Structural Bioinformatics at the RAU. According to its head, senior lecturer of the Department of Bioengineering, Bioinformatics and Molecular Biology at the Institute of Biomedicine and Pharmacy of the RAU Lernik Unanian, regular meetings and lectures of Russian and Armenian scientists are very important, as they present interesting advanced technologies and new developments for students.
After the lectures, a joint scientific seminar was held at the Laboratory of Structural Bioinformatics, at which colleagues from SPbPU and the RAU exchanged information on the research results obtained as part of a common project and outlined the ways for its further development.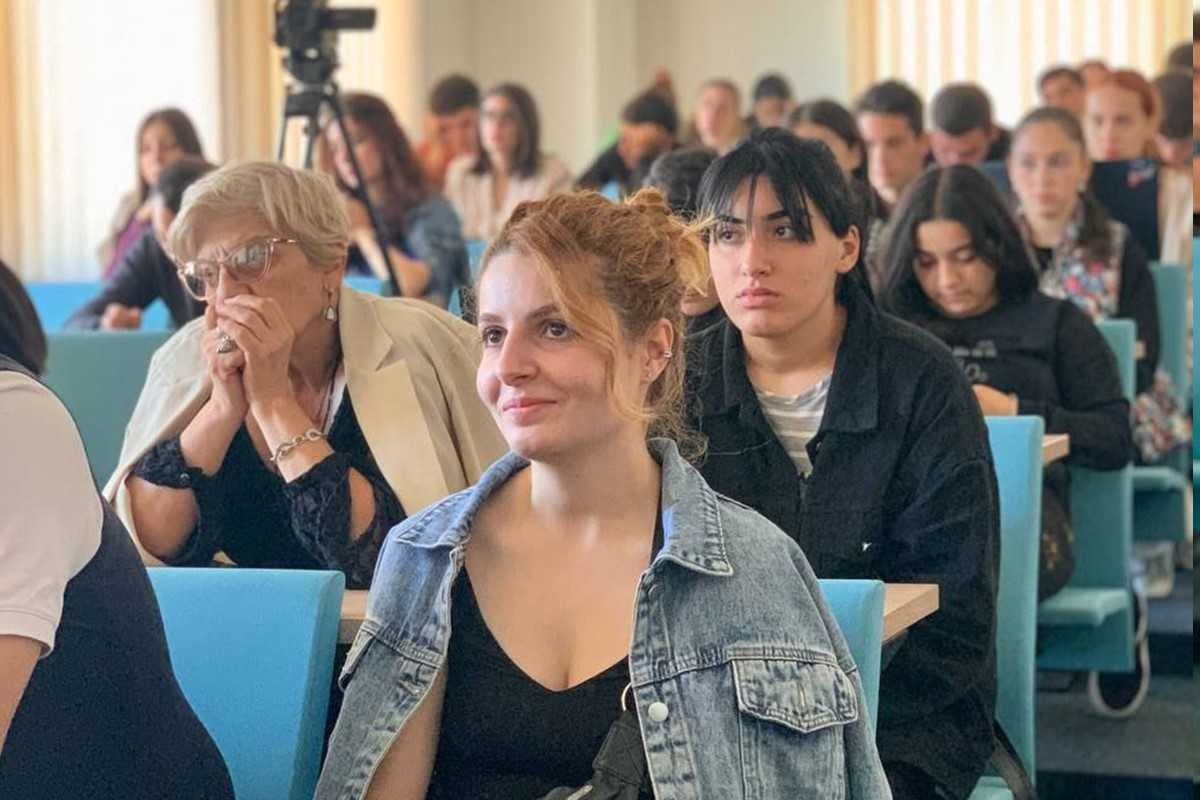 The joint activities of SPbPU and RAU biophysical research groups are carried out within the framework of the state project «Implementation of a complex of measures for increasing the efficiency of activities of Russian-Armenian (Slavonic) and Belarusian-Russian Universities in training professional personnel for digital economy through development of research programs, additional education and advanced training programs for students and young researchers, including using modern distance learning technologies». The project is funded by the RF Ministry of Science and Higher Education and aims to develop cooperation between SPbPU and the two Slavic universities.
Prepared by the SPbPU International Office based on information from the Higher School of Biomedical Systems and Technologies, IBS&B
Print version