New foreign lecturers are to deliver lectures at SPbPU in 2016
On 7th December another meeting of the Commission for Selecting Foreign Lecturers took place at Peter the Great St.Petersburg Polytechnic University in order to choose foreign specialists to work at SPbPU.
Inviting foreign lecturers to work on certain projects and deliver lectures is an important activity aimed to implement Program "5-100-2020". Globalization of education is primarily connected with global integration, active sharing of experience, and exchange of intellectual developments. For students communication with foreign lecturers is a key to their successful performance, broadening their horizons, as well as new opportunities for efficient research.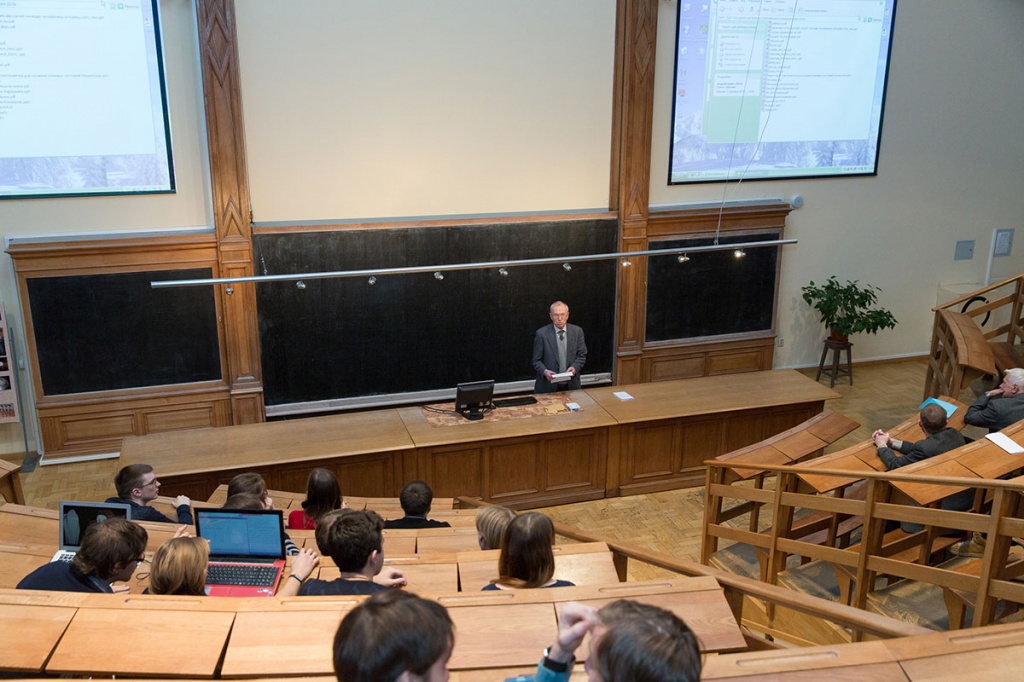 Students of the Polytechnic University often defend their graduation projects successfully under the guidance of visiting lecturers. This is connected with their wish to understand the basics of the global educational strategy, to work for high technology companies, and to become part of the international academic community.
It is worth mentioning that all the selected candidates have rich experience, they have been involved in large-scale projects and take an active part in academic activities.
A new experience for SPbPU is inviting talented young scientists, the so-called postdocs in order to do research at the laboratories and research centers of our University.
A postdoc Diego Guermini represents Gustave Roussy Cancer Institute (France). He is studying the issues of virology and electron microscopy. At the Institute of Physics, Nanotechnology and Telecommunications the researcher is to teach a practical course devoted to the analysis of 3D images received with the help of a confocal microscope. Doctor Guermini promised to strengthen the ties of SPbPU with Gustave Roussy Cancer Institute in Paris, the largest international center for studying cancer.
Eric Charkaluk, Senior Research Fellow at the National Center for Scientific Research, France is supposed to work for the Institute of Applied Mathematics and Mechanics (IAMM SPbPU). The scientist is the team leader of CERVIFER Project (integrity and reliability of railways), co-chairman of the international conference on low cyclic fatigue and co-organizer of seven international conferences.
In the upcoming year the Institute of Energy and Transport Systems invites to visit the workshops held by Professor Lee Wei who is willing to contribute to the global development of SPbPU. Mr. Lee Wei was involved in working for the USA industry for a long period of time. The main areas of his research are mechanics of fluids and heat and mass transfer.
Olaf Lothar Hauer, a representative of iNTG, a German international company providing business education, is going to cooperate with the Institute of Industrial Economics and Management (IIEM SPbPU). He spent a lot of time studying the functioning of organizations, he was responsible for implementing the main strategy of BMW Company, and he used to be a research officer at the Department of Psychology at Friedrich Schiller University. Working in Germany, Eastern Europe, Russia and China, Professor Hauer gained a unique experience in staff training and company development.
The University of Twente is famous for its entrepreneurial experience, which is of great interest for SPbPU. Professor Reiner Harms from the University of Twente is supposed to deliver lectures at IIEM on the development of business thinking and latest innovations. He will also make students familiar with the unique system of the industrial park Kennispark Twente, specific systems for supporting entrepreneurs connected with commercialization of research results and technology transfer.
Frank Regener, Professor of the technologies of pseudo-liquefied materials at the University of Cologne is to deliver a series of lectures for the students of the Institute of Civil Engineering. He appreciates the responsibility of SPbPU students is sure of positive results.
The students of SPbPu have a chance to get to know many other foreign lecturers well-known in the academic community. It is important that each university demonstrates an individual approach to teaching and combines fundamental theoretical knowledge with practical work
We welcome all foreign lecturers at the Polytechnic University and hope that they will start new interesting projects!
International Relations Office
Print version