SPbPU and Huawei Experts Discussed New Projects at Huawei-SPbPU Open Day 2020
SPbPU and Huawei Experts Discussed New Projects at Huawei-SPbPU Open Day 2020
Experts from the Peter the Great Polytechnic University and Huawei took part in a Huawei-SPbPU Open Day 2020 virtual workshop. Its main goal is to bring together leading scientists from the most relevant fields of science to identify promising areas of cooperation and launch new projects. Due to the great potential and a broad range of scientific fields in which SPbPU researchers work, St. Petersburg Polytechnic University became a co-organizer of a large-scale event that Huawei regularly holds. Besides our university, experts from St. Petersburg, Moscow and other Russian research centers of Huawei and the Chinese office of the company joined the workshop.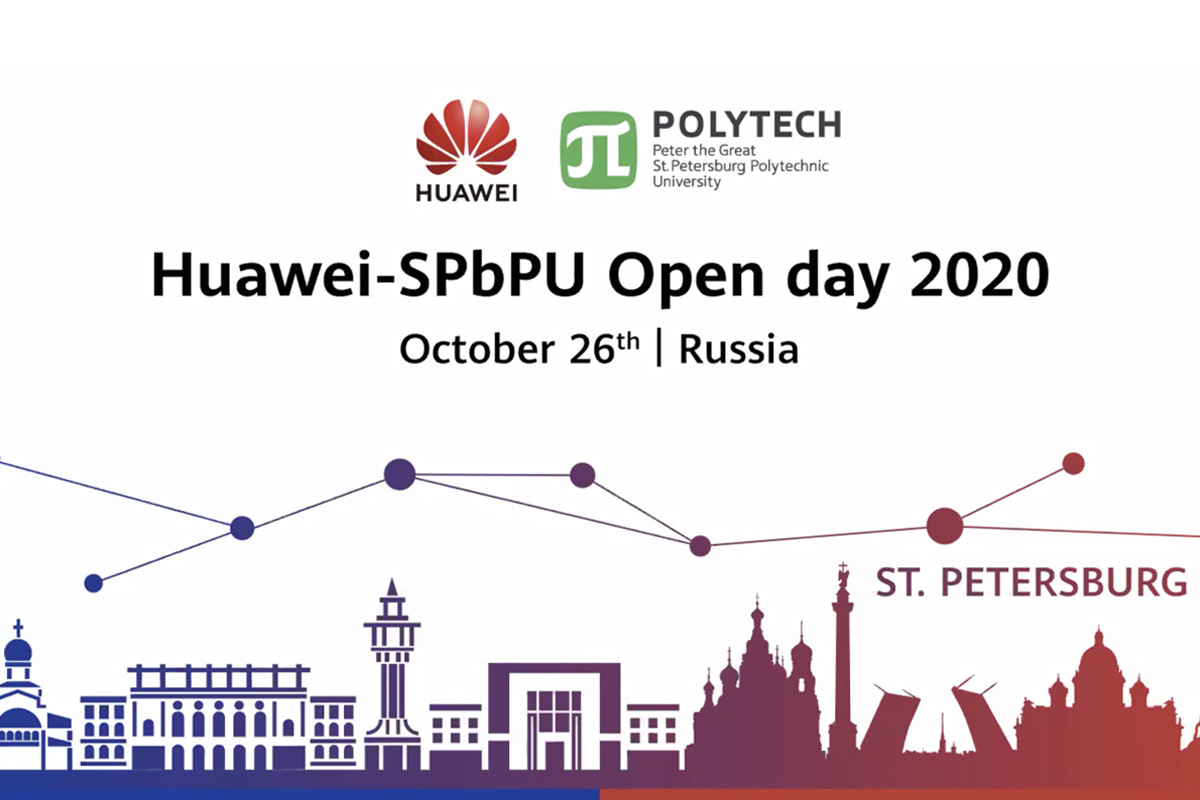 In his welcoming speech, the director of the St. Petersburg Huawei research center, Mr. Jason ZENG, emphasized that Huawei is interested in cooperation with Polytechnic University on a number of relevant topics: "Today we are working with huge amounts of data. Issues in operating them remain: how to systematize them, how to ensure a high-quality connection and fast information transfer. At the same time, we aim to make the processes as automated as possible, and the management models must be simple and understandable. Huawei has already started cooperation with SPbPU in a number of areas. We are confident that today's meeting will help us establish new contacts and start new joint projects."
More than 70 participants joined the Huawei-SPbPU Open Day 2020 workshop. Together with Mr. Jason ZEN, Director of the Institute of Computer Science and Technology (IKNT) Lev Utkin and the Director of the Institute of Physics, Nanotechnology and Telecommunications (IFNiT) Vladimir Sorotsky greeted the audience; they spoke about the main scientific lines of the institutes. "We conduct research in many areas: supercomputers, artificial intelligence, big data, and so on. I am sure that today's reports of Polytechnic scientists will become the best presentation of the university, and will also be the 'starting points' for new joint projects and research," said Lev UTKIN.
In the course of the workshop, leaders of scientific areas and graduate students of SPbPU, together with heads of Huawei's fields discussed the key tasks on which research work is being carried out. Thus, the participants talked about the features of the use of artificial intelligence in medicine, data compression without loss of quality for corporate data storage systems, optimization of video compression algorithms for video surveillance purposes, current problems in transport monitoring systems, solutions for speech recognition on devices, and much more.
"We spoke in detail about the directions of work of the laboratory for verification and analysis of programs of the Higher School of Intelligent Systems and Supercomputing Technologies," commented Vladimir ITSYKSON, Director of the Higher School of ISST. "During the workshop, we covered in detail 7 research projects, somehow or other aimed at solving problems of ensuring the quality of software systems; in particular, we talked about a static analysis system for finding errors in programs in C / C ++; a system for automating the generation of unit tests for the Java language; approach for extracting models from large software projects and other interesting aspects."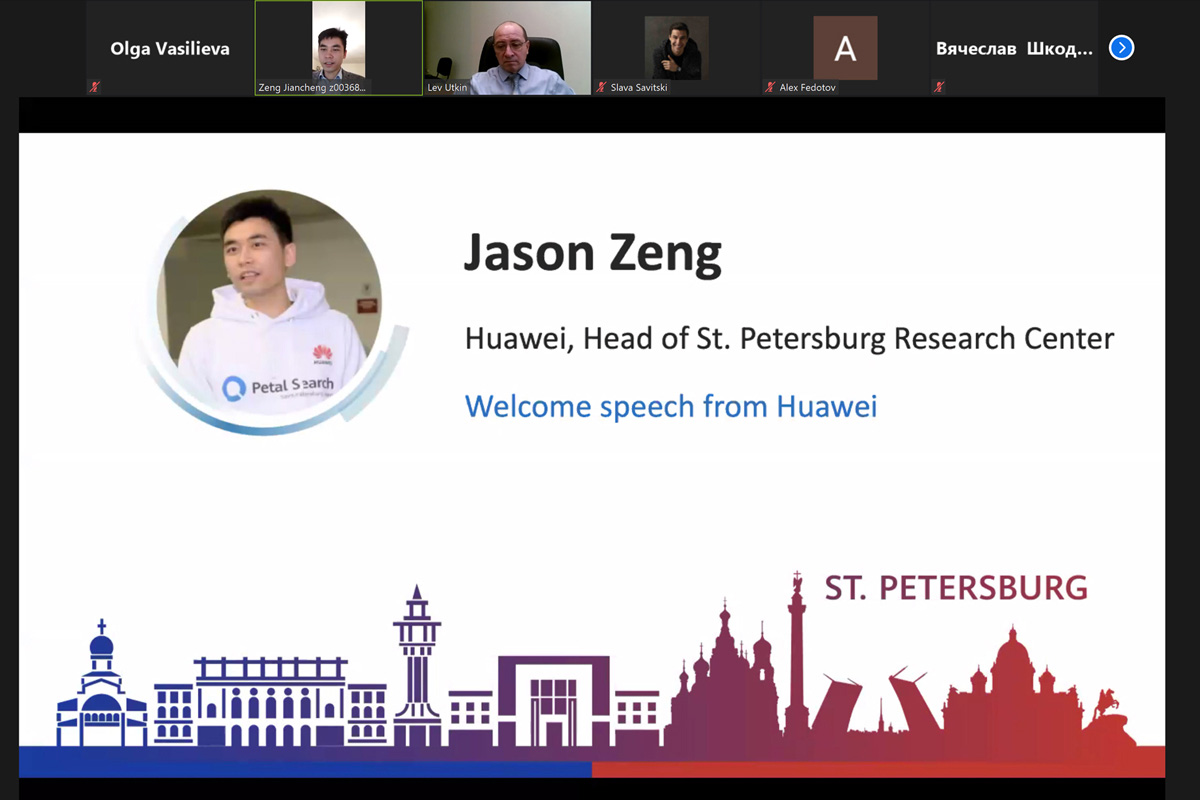 "My presentation is dedicated to the method of remote determining the parameters of small unmanned vehicles in various environments against the background of moving objects," says Alexander FEDOTOV, senior lecturer of the ISST Higher School of Economics. "This is completely related to the topic of a 'smart city.' Its technologies involve the creation, development, and improvement of devices that accurately calculate the position of vehicles, pedestrians, road signs, and other objects in space. One of the simplest examples of this is a phone with a navigator. However, it is not an accurate positioning: its error is approximately 10 meters. For a car driving unmanned, such an error is unacceptable. Our scientific group, led by Professor Vladimir KUPTSOV, IFN&T, is working to find and study radio frequency signals of special forms that will minimize the occurrence of errors and calculate the position of objects with the highest possible accuracy."
The Huawei Open Day 2020 workshop lasted through the whole day and gave SPbPU and Huawei scientists and researchers an opportunity to identify areas of mutual interests for further work. In particular, representatives of the Chinese company expressed interest in creating a joint laboratory on the basis of SPbPU, as well as launching new promising projects. Let us remind that the cooperation of Polytechnic University and Huawei has significantly intensified in recent years: 4 contracts were signed for R&D in various areas including new materials, information technologies, microelectronic technologies, etc. In addition, the university and the company are cooperating in the field of talent development: in 2019 and 2020, Polytechnic University became a venue for the regional Huawei Honor Cup festivals. Thus, the Huawei Open Day 2020 workshop has become another example of the successful growth of cooperation, thanks to which representatives of the university and the company will continue to study the outlined topics already in the format of negotiations between specialized working groups.
Prepared by the SPbPU International Office
Print version