Polytech participated in the conference dedicated to the anniversary of the strategic partnership with Vietnam
Polytech participated in the conference dedicated to the anniversary of the strategic partnership with Vietnam
On May 19, Polytechnic University participated in the conference «Two Centuries of Friendship — Two Decades of Strategic Partnership» as part of the annual celebration of Ho Chi Minh City Days in St. Petersburg. This year, because of the coronavirus pandemic, the gala event was held in a mixed format.
St. Petersburg Governor Alexander BEGLOV greeted the conference participants. The cooperation between Russia and Vietnam is based on mutual trust and deep respect. The twin cities of St. Petersburg and Ho Chi Minh City make a significant contribution to strengthening relations between our countries. We treasure our friendship, said the head of the city.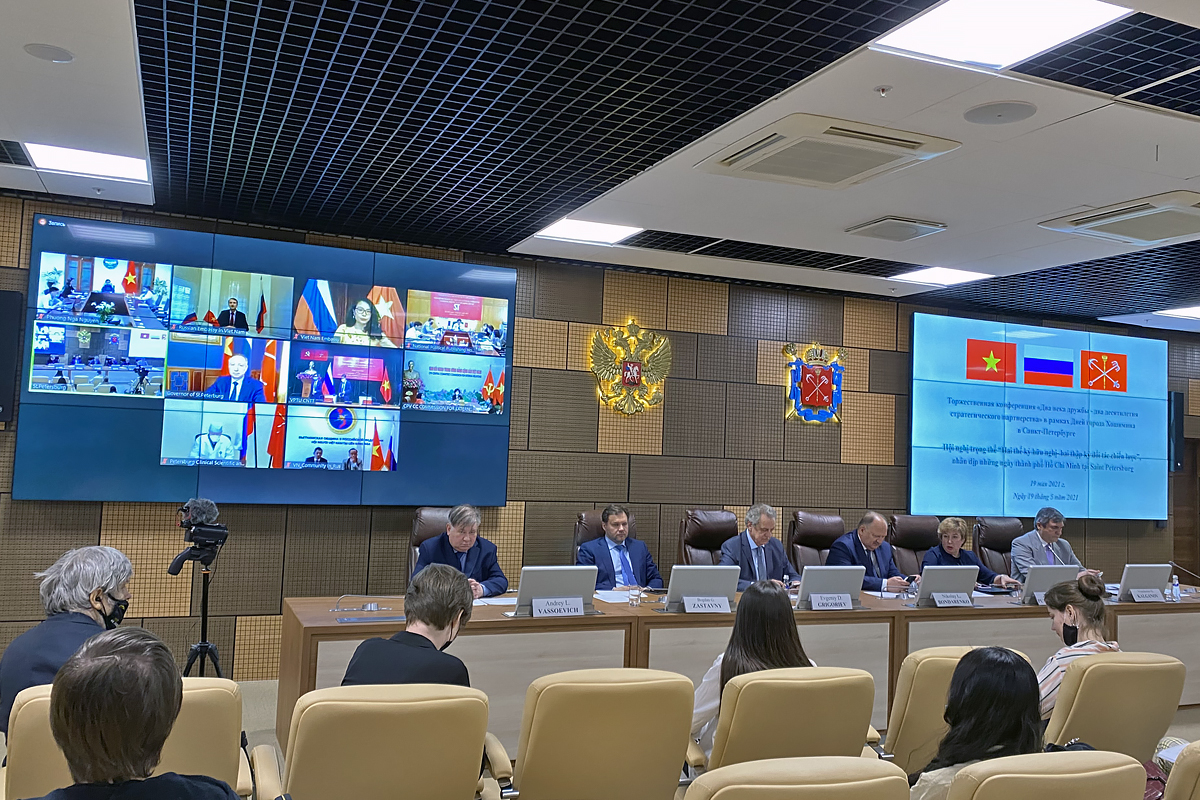 During the event, the participants were greeted by the Secretary of Ho Chi Minh City Party Committee NGUEN Van Nang, Ambassador Extraordinary and Plenipotentiary of Russia to Vietnam Gennady BEZDETKO, Chairman of the Committee on Youth Policy and Cooperation with Public Organizations Bogdan ZASTAVNY, Secretary of Ho Chi Minh City Communist Youth Union Pham Thi Thanh Phung, members of St. Petersburg Government and Politburo members. The speakers emphasized that Russian-Vietnamese cooperation has been successfully developing in many areas, particularly in health care, youth policy, and education. Polytechnic University was represented by Viktor MALYUGIN, South-East Asia Project Manager.
Peter the Great St. Petersburg Polytechnic University and universities of Vietnam have established strong scientific and educational ties. Among the Vietnamese partners of SPbPU are Binh Duong University, Le Quy Don State Technical University, Hanoi and Ho Chi Minh Polytechnic Universities, Hanoi Institute of Telecommunication Technologies, Hanoi University of Science and Technology, Ho Chi Minh City Industrial University, National University of Civil Engineering, Institute of Electronics, Informatics and Automation (VIELINA) and others. Lectures and masterclasses are regularly given by SPbPU professors to Vietnamese universities and students from Vietnam come to Polytechnic. Today there are 75 Vietnamese students enrolled in various degree programs at SPbPU, many of whom demonstrate outstanding academic performance. For example, in February 2021, a graduate of the Institute of Energy NGO Tan Phu received the gold medal of the best graduate, and the year before the honorary award was given to an SPbPU graduate from Vietnam Nguyen Tien Hoang. Whole groups of Vietnamese students receive diplomas with honors: for example, students in the «Nuclear Power Plant Design and Operation» program at the Institute of Energy, which operates under the auspices of Rosatom, graduated with eleven degrees with honors.
The partnership of SPbPU with universities in Vietnam in the field of science, technology, and culture is actively developing. In 2018, a joint with Binh Duong University was inaugurated Laboratory of Microprocessor Devices was inaugurated; work is underway to launch a joint laboratory for intelligent systems, and communication between представителями научных групп, and a number of Vietnamese universities hold Russian Language Days, which are taught by Russianists from Polytechnic University.
During the last conference named «Two centuries of friendship — two decades of strategic partnership,» the participants discussed the prospects of partnership development in different spheres. In addition, partnership agreements were signed between the St. Petersburg Committee on Education and the Ho Chi Minh Education Department and an agreement between the Committee on Youth Policy, the Committee on Foreign Relations, and the Komsomol organization of Ho Chi Minh City.
We are very pleased to contribute to the development of Russian-Vietnamese relations in education, science, technology, and culture. We wish our countries fruitful and long-term cooperation, said Victor MALYUGIN, project manager for Southeast Asia.
Prepared by the SPbPU International Office
Print version