Polytechnic University congratulates strategic partner, Belarusian-Russian University, on its anniversary
Polytechnic University congratulates strategic partner, Belarusian-Russian University, on its anniversary
In November, the Belarusian-Russian University (BRU) celebrated its 60th anniversary. A delegation of Polytechnic University went to congratulate the strategic partner on the anniversary. The representatives of Peter the Great St. Petersburg Polytechnic University took part in the official ceremony at the meeting of the Academic Council on the occasion of the 60th anniversary of the BRU and also conducted a series of events to develop cooperation between the two universities.
The SPbPU delegation included representatives of the Higher School of Hydraulic and Power Engineering Construction ICE Professor Natalia POLITAEVA and Associate Professors Alexander CHUSOV and Mikhail ROMANOV. On behalf of the Rector of SPbPU, RAS academician Andrei RUDSKOI, the polytechnic presented a letter of congratulations and a memorable gift to the Rector of BRU Mikhail LUSTENKOV.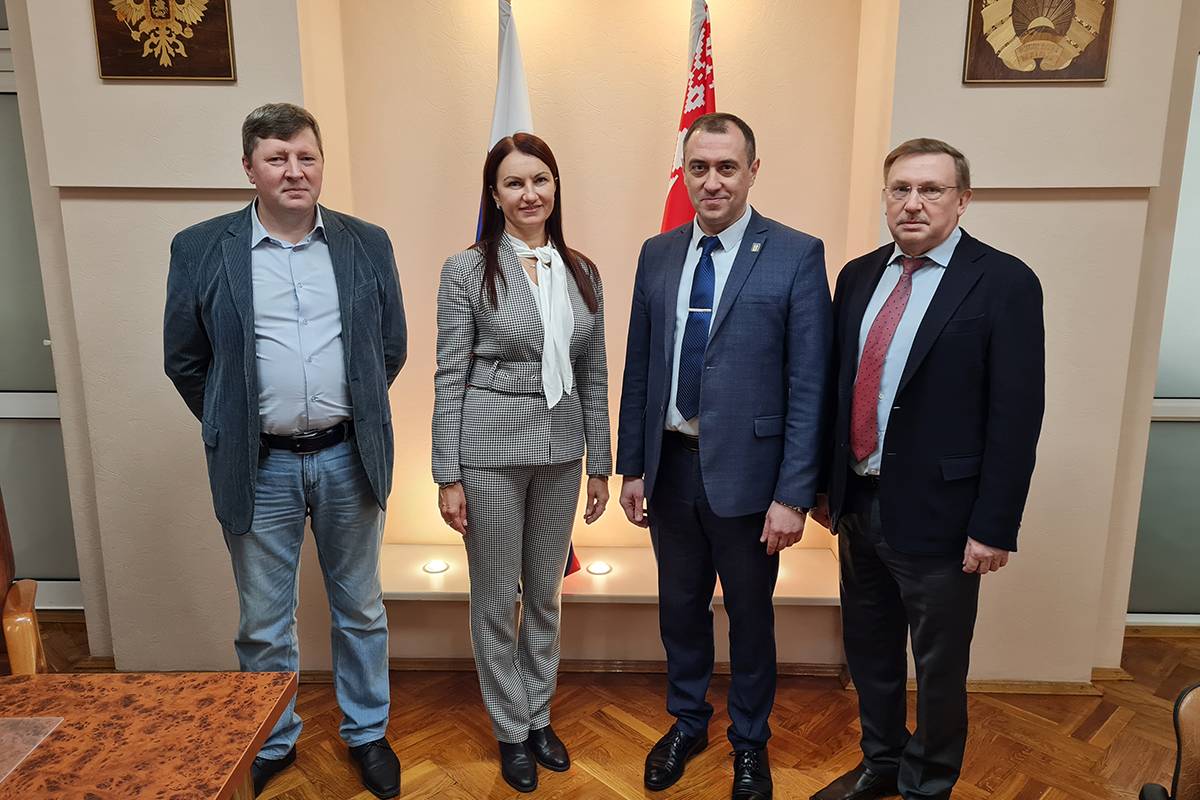 It is especially gratifying to note that long-term friendly relations have been established between the Belarusian-Russian University and Peter the Great St. Petersburg Polytechnic University. Strategic partnership of our universities in science, education and technology has been successfully implemented since 2014. We hope to develop new areas of joint research and development, contacts of our students and young researchers and scientists to strengthen Russian-Belarusian scientific and educational partnership and unity of our peoples, wrote Rector of SPbPU Andrei RUDSKOI in his congratulation.
To strengthen partnership in higher education, enhance academic mobility of students and teachers, as well as to continue cooperation in the development of Slavic universities, the representatives of the Engineering and Construction Institute delivered a series of practice-oriented lectures to the students of the department of Industrial and Civil Engineering, Department of Technical Safety and Department of Industrial Design and Highways, after which they received certificates. During the visit, the delegation from SPbPU also held talks with the head of the Department of Technosphere Safety and Industrial Design Alexander SHCHUR, after which the parties agreed to publish a joint training manual for the course «Ecology» in 2022.
The visit of the SPbPU delegation to BRU took place within the framework of the state project «Implementation of a complex of measures to improve the efficiency of the Russian-Armenian (Slavonic) and Belarusian-Russian universities in training professional personnel for the digital economy through the development of research programs, additional education and professional development programs for students and young scientific and pedagogical staff, including the use of modern distance technologies.» This project is funded by the Ministry of Science and Higher Education of the Russian Federation and aims to develop cooperation between SPbPU and the two Slavic universities.
Prepared by the SPbPU International Office
Print version