Professor TU Berlin told SPbPU's students about Innovation Business
Professor TU Berlin told SPbPU's students about Innovation Business
On 14 December SPbPU Institute of Industrial Economics and Management (IIEM) hosted the lecture of Prof. Dr. Jan Kratzer from the Technical University of Berlin (TU Berlin). The lecture was devoted to the development of innovation business and research on entrepreneurship.
TU Berlin (178-rated in QS rankings) is a strategic partner of SPbPU, which implies active participation of students and professors from both universities in academic mobility programs. E.g. Dr. Jan Kratzer is a frequent visitor to our university: in March 2015 he conducted the international scientific seminar for IIEM postgraduate students and enrollees of the Department of Economics and Management in TU Berlin. In addition, he was an award panel member at IIEM Summer school, a participant of the international scientific seminar on teaching methods for innovative entrepreneurship, which was held in September 2015. "Internationalization of education is an important prerequisite for the development of every university, - states the vice-rector for SPbPU International Relations D.G. Arseniev, - the invitation of foreign professors contributes to the awareness of global processes, broadening students' scientific outlook. It is especially important for the sphere of international business".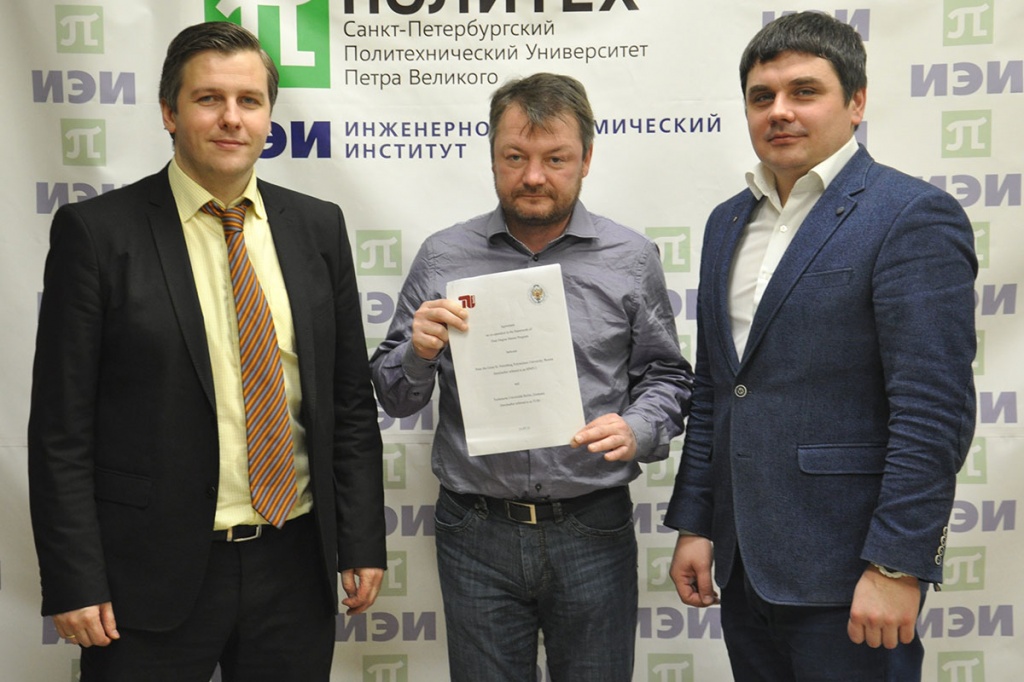 According to Dr. Kratzer, Saint Petersburg Polytechnic University is one of the leading progressive universities, which promptly responds to all changes in the world's research and education. "Cooperation with the largest university in Berlin, which is a city-leader for hi-fi startups in Germany, will enable us to improve research in management and entrepreneurship, to develop joint applied research projects of Russian and German students with majors in economics and engineering", - commented the deputy director for IIEM International Affairs V.V. Shchegolev on the purpose of Dr. Kratzer's lecture.
The lecture was very interesting for Polytechnic students. This time Dr. Jan Kratzer does not only share his mastery in innovation business, but participated in the talks with SPbPU academic staff. During his visit the German researcher handed over the signed agreement for the Joint Master's Degree Program in Entrepreneurship. In accordance with this agreement five SPbPU students enrolled in the Master's Degree Program in English "Innovative Entrepreneurship" and five Master's students from TU Berlin will obtain their Dual Degree Diplomas in the near future. The Joint Educational Program provides for one-year studying in Germany and one-year studying in Russia. Within the talks the participants also discussed opportunities for mutual scientific support, lecturing, and conducting a partnership seminar for postgraduate students in 2016.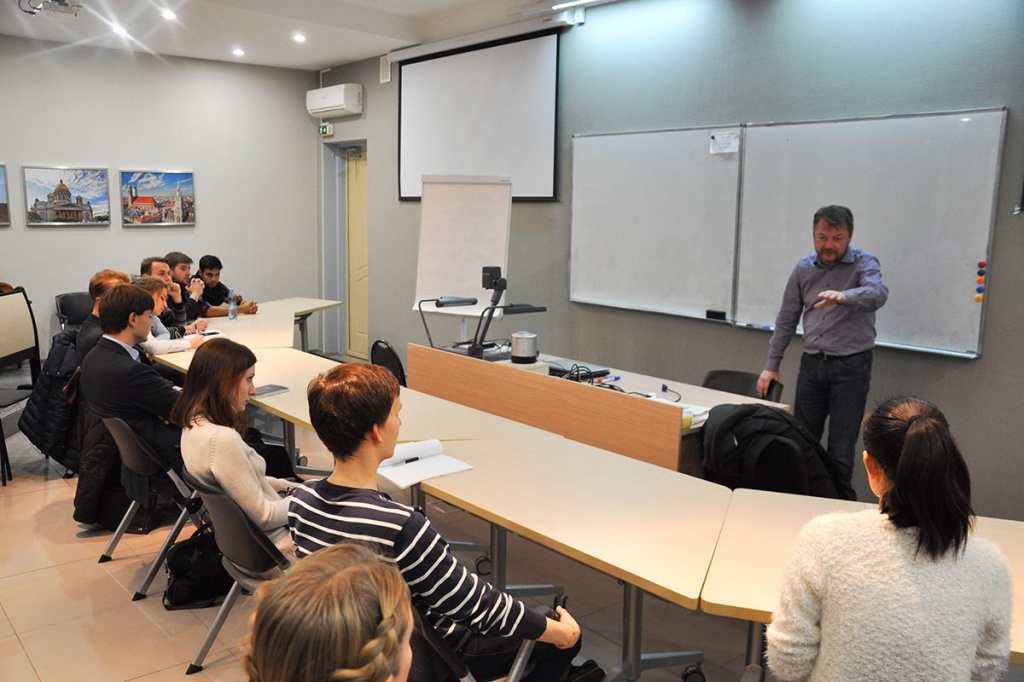 At the end of his visit Dr. Kratzer gave an interview answering questions about his career path and most inspiring aspects of his work. He also shared his impressions on Russian students and outlined prospects for further cooperation with our university.
- Jan, could you tell us about your career path?
- I am a professor of the Department of Entrepreneurship and Innovation Management, the dean for Research and Internationalization at the Department of Economics and Business, a member of the Scientific Council at TU Berlin. Besides, Agnes von Matuschka, who is a managing directors of Center for Entrepreneurship at TU Berlin, and I run the Entrepreneurship School. I also deal with editing in such journals as "Creativity and Innovation Management", "Journal of Product Innovation Management". My professional life is full of different events, but I am never tired. I really enjoy talking to students.
- What do you think of cooperation prospects with Peter the Great St. Petersburg Polytechnic University?
- I am sure that the Technical University of Berlin will continue to collaborate with your university, and in the future we will have a lot of interesting joint projects. Your university is a reliable and promising partner, your scientists are involved in global projects that are up-to-date for the world's research community. A key to success of the Polytechnic University is its openness and acceptance of new ideas, relying on its own system of intellectual values and individual development.
- Could you tell us briefly about your lecture?
- The important role in the formation of entrepreneurial environment belongs to the state. Today governments of many countries insist that universities should evolve in compliance with economic demands. This matters for Russia too, because this country appreciates scientific and research activity and is rapidly moving ahead. My lecture defines modern trends of innovative entrepreneurship. It is always good to know what will happen tomorrow!
- What is your opinion of our students?
- I believe in excellent prospects of your students! Obviously, they like studying, speak foreign languages and are ready for changes. To my mind, an opportunity to attend lectures of international professors is an excellent experience for the students, their competence and skills. I like your country and every visit I feel more confident about the optimism of Russians, their aspiration to be aware of today's research and educational process.
International Relations Office;
Print version