New Research Results of the SUSTECH Project Have Been Discussed in a Video Conference Format
New Research Results of the SUSTECH Project Have Been Discussed in a Video Conference Format
Peter the Great St. Petersburg Polytechnic University in cooperation with the Lappeenranta-Lahti University of Technology (LUT; Finland) and the research and development company CJSC Applied Nanotechnology continue to work on developing a hybrid wood-composite material with improved properties. On April 21, a meeting of the working group on the project "Light Hybrid Wooden Composite Materials for Sustainable Building Technology (SUSTECH)" was held in a video conference format. The project is being implemented as part of the Russia-South-East Finland 2014-2020 cross-border cooperation program with joint funding of the European Union, Russian Federation and Finland.
On behalf of the Polytechnic University, the Head of the SPbPU research group Galina KOZINETS, the project coordinator Maria ZHIDKOVA, representatives of SPbPU Institute of Civil Engineering and SPbPU International Office took part in the video conference. LUT was represented by the Head of Fiber Composite Laboratory Professor Timo KÄRKI.
The goal of the project is the development and implementation of technology of innovative wood-based composites, as well as the development of structures made of hybrid wood composites with the aim of organizing available infrastructure and develop the border region of Russia and Finland.
As part of the work meeting, the parties discussed the progress of research conducted at the Polytechnic University, and the joint publications. To date, a group of researchers at SPbPU is conducting numerous tests. Professor Galina KOZINETS spoke about their results obtained at the Polytech Testing research laboratory (Polytech-SKiM-Test). In particular, scientists tested two modifications of the polymineral binder and developed clay heat insulator using this binder. The physicomechanical characteristics of the materials were determined - compressive strength, bending strength, thermal conductivity, frost resistance, water tightness, and water absorption. Professor KOZINETS emphasized that each of the tested materials can be recommended for use in a specific environment. In the near future, scientists plan to compare the results with existing analogues in the construction materials market. This will help determine the benefits of the tested materials, and prove the effectiveness of their use in the project.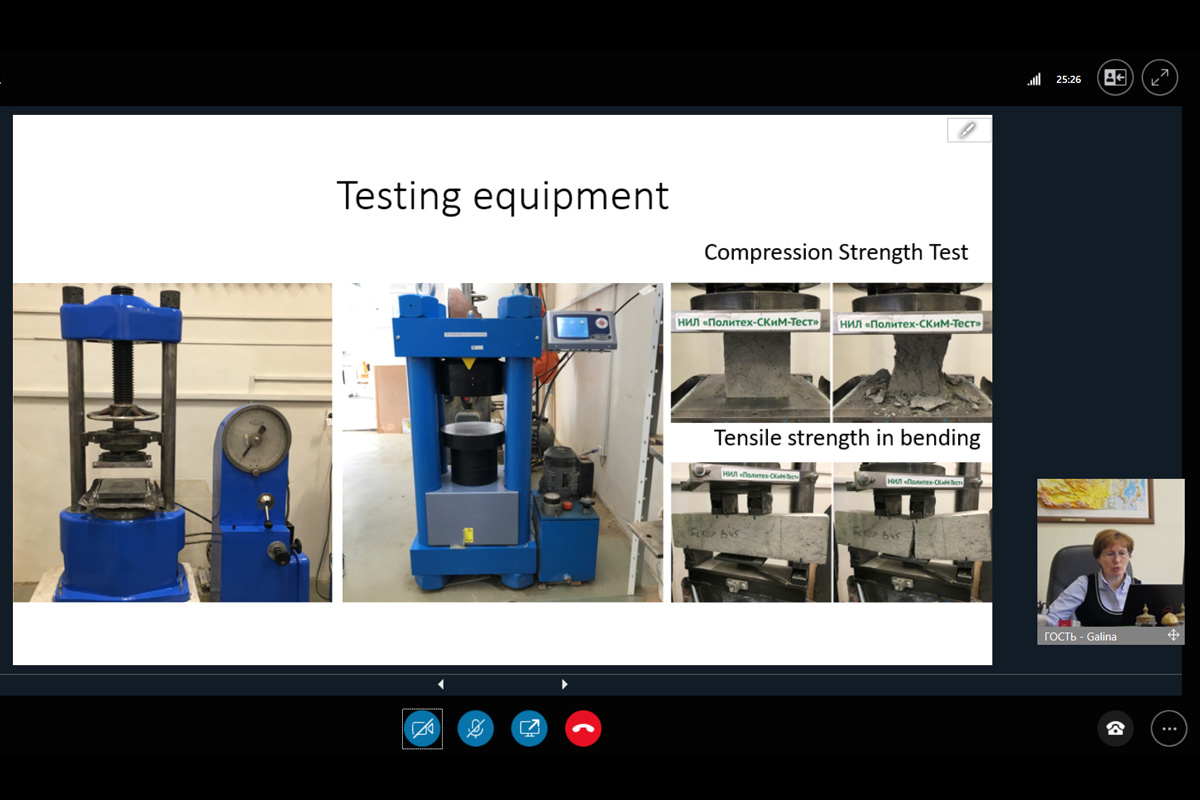 Joint publication became another important topic for online negotiations, and their publishing in high-ranked journals. A joint publication has already been prepared based on the results of testing models of wooden structures carried out at the laboratory Polytech-SKiM-Test within the framework of the first year of the project. Based on the results of ongoing research, another joint publication is planned.
"The results obtained during the tests at SPbPU are of great interest to us. When the restrictions associated with coronavirus are canceled, we would like to continue work in this direction," commented LUT Professor Timo Kärki.
Russian and Finnish colleagues continue to actively collaborate in the framework of the SUSTECH project. It is planned that the next video conference, where the parties will again present the intermediate results of the research, will be held on May 13.
Prepared by SPbPU International Office
Print version