The SPbPU International Campus Keeps Working
SPbPU International Campus continues to work, while not on the same scale as before and with the use of thorough measures to ensure the safety of health of students and staff. In particular, students of the University foundation programs keep attending classes. This resolution was made due to a number of objective reasons.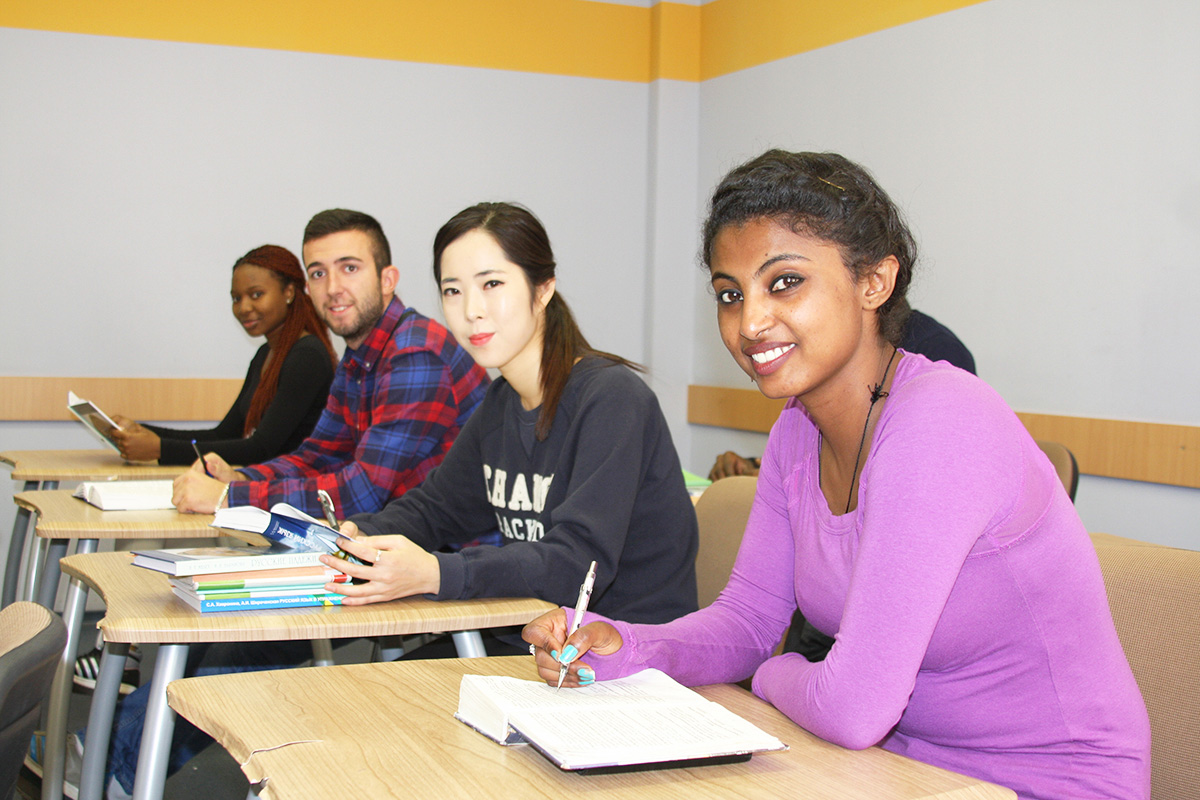 Firstly, the International Campus is a unified space in which both the dormitory and the classrooms are located. To get to the classes, students do not need to use public transport or move from building to building. For outsiders, the International Campus is temporarily closed.
Secondly, lectures are held exclusively in groups of less than 15 people. Students and staff undergo temperature measurement at the entrance to the educational building on daily basis.
The third reason is the specificity of educational programs. In the University foundation programs, students study the Russian language, to be able then to continue their studies at the university. "It is almost impossible to master Russian remotely. Classes in this subject are one of the few that we have kept in full-time format. All other disciplines in the main educational programs have been transferred to the remote mode," Viktor KRASNOSCHECHOV, Director of the HS IEP, commented. "It is important to point out that Polytechnic University is not the only one to take such measures. A similar situation is now in the Peoples' Friendship University of Russia (PFUR), where all areas of training except preparatory have been transferred to distance learning."
Polytechnic University teachers work with their students remotely, both using special educational platforms and through other resources, i.e., social networks, email and video conferencing. By agreement with students, if the whole group insists on transferring to a distance mode, the Higher School of International Educational Programs would ensure the transition to online education.
In the near future, measures to ensure the safety of students and staff will get tighter. Special dispensers with disinfectants will be installed at four points of the International Campus; in addition, we have purchased a whole batch of disposable gloves and medical masks for use.
And for the folks not to lose their positive attitude, PolyUnion Interclub continues its work: in March and April a series of events will be organized for foreign students. For example, a Russian speaking club meeting, charity movie evening, language club, day of Central Asian culture, and rehearsals of musical groups. The organizers specify that the top number of participants is 30 people; however, for all other comers, online broadcasts will be provided. Follow the interclub work schedule in its official communities on VKontakte, Facebook and Instagram.
Besides this, the SPbPU English and Chinese websites replicated the section with information for students and staff concerning the measure on the prevention of coronavirus infection proliferation. This information is regularly updated.
Also, in accordance with the Action Plan on the prevention of the spread of coronavirus infection on the SPbPU premises regarding international activities, on any issues of international education, including travel to their homeland, foreign students can contact the following employees at the Department of International Education:
Prepared by Center for International Recruitment and Communication
Print version