SPbPU and Jiangsu University Open Joint Russian Language Center in China
SPbPU and Jiangsu University Open Joint Russian Language Center in China
At the end of February 2016, SPbPU and Jiangsu University opened a Russian Language Learning Center as part of the China–Russia Youth Friendly Exchange Year. A delegation of SPbPU students and teaching staff, headed by Vice-Rector for International Relations D. G. ARSENIEV, took part in the opening ceremony.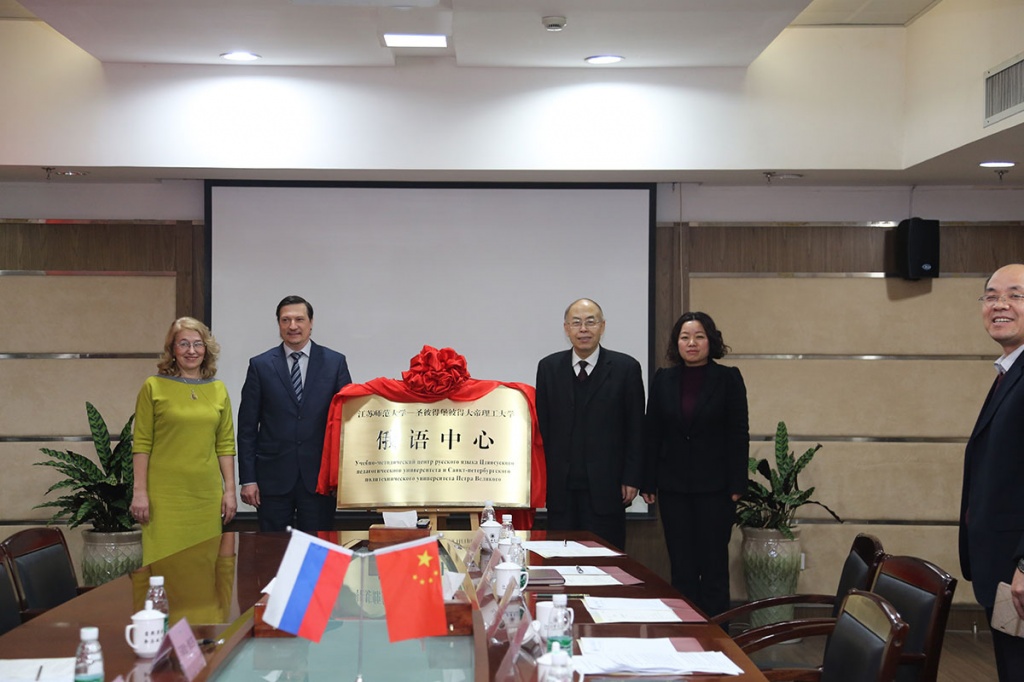 The student community of the Polytechnic University in China is represented by 30 students from SPbPU institutes that are actively involved in the education of Jiangsu University students (Institute of Civil Engineering, Institute of Energy and Transport Systems, Institute of Physics, Nanotechnology and Telecommunications, Institute of Computer Science and Technology).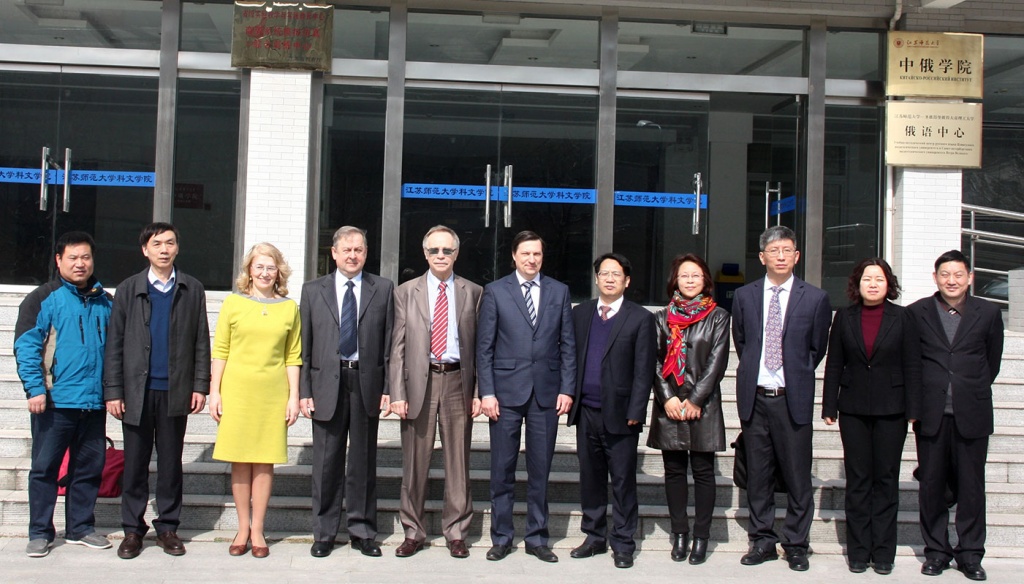 During the opening ceremony, Vice-Rector for International Relations D. G. ARSENIEV thanked his Chinese colleagues for the meeting and their willingness to cooperate in various areas. "Quality education for the younger generation is a key to the world's future. We are happy that our Chinese colleagues support our best endeavors, put promising ideas into practice, and carry out important projects. At the moment, over 700 Chinese students are studying at the Polytechnic University. These are young people who aspire to become true experts and ideologists of their home country," D. G. Arseniev stated.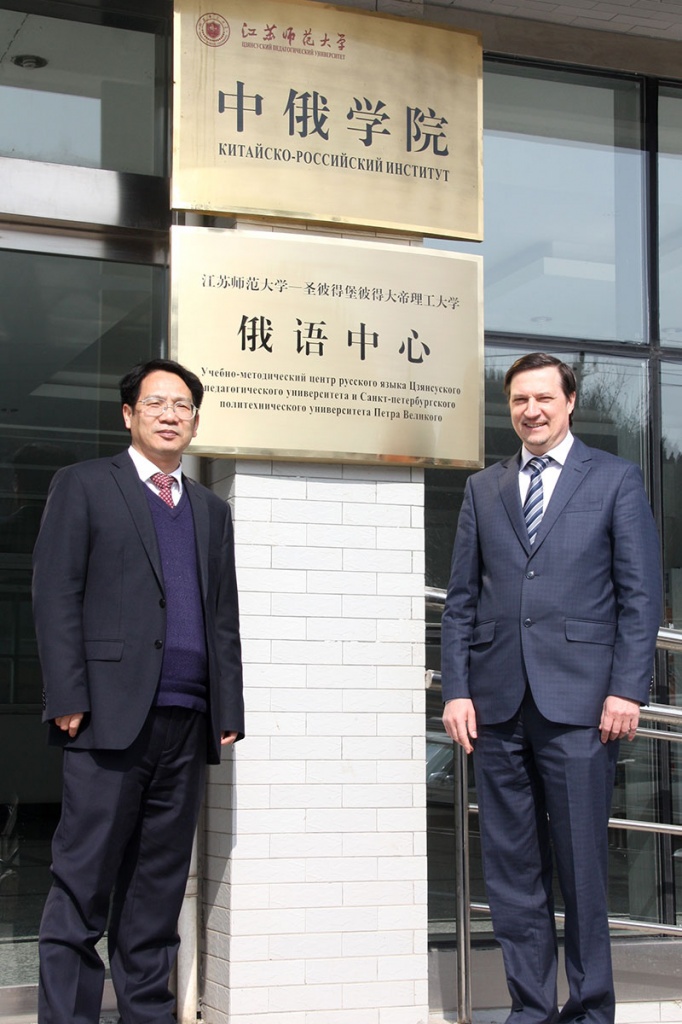 Meanwhile, Rector of Jiangsu University Hua Guihong proposed long-term cooperation to the honored guests, laying particular emphasis on joint youth exchange programs.
"We are all very happy to welcome you here. Today marks the beginning of a new history of friendship between Chinese and Russian people. On this voyage towards global scientific and educational achievements, our youth are the anchor of hope and luck. Together, we will open the doors to successful future," Rector Hua Guihong proclaimed.
Jiangsu University devotes considerable attention to the study of Russian language and literature. The opening of a joint Russian Language Center marked a new stage of cooperation between our universities. The Center aims to teach Chinese students Russian language so that they can continue their education at SPbPU, organize scholarships and advanced training courses for Chinese professors, and invite specialists in Russian philology to give lectures and regular classes at Jiangsu University or remotely. Chinese colleagues confirmed their interest in the experience that SPbPU has in teaching Russian language to foreign students in terms of active implementation of innovative methods. Head of the department I. I. Baranova visited Jiangsu University on several occasions in order to upgrade the skills of the teaching staff and introduce them to some advanced technologies. Now, she can rightfully be proud of her students, who promote Russian language in China on a daily basis, encouraging people to read in the native language of A. S. Pushkin. During a business visit, I. I. Baranova gave a series of lectures for Russian language teachers at Jiangsu University. Among other plans are joint articles and participation in international symposiums and conferences.
"Russian language offers great opportunities to Chinese students who want to work in Russian–Chinese companies and institutions after graduation. Additional training in the homelike environment of their alma-mater with the support of highly qualified SPbPU experts makes it easier for them to adapt and learn how to communicate with Russian students and professors," SPbPU Vice-Rector for International Relations D. G. ARSENIEV commented.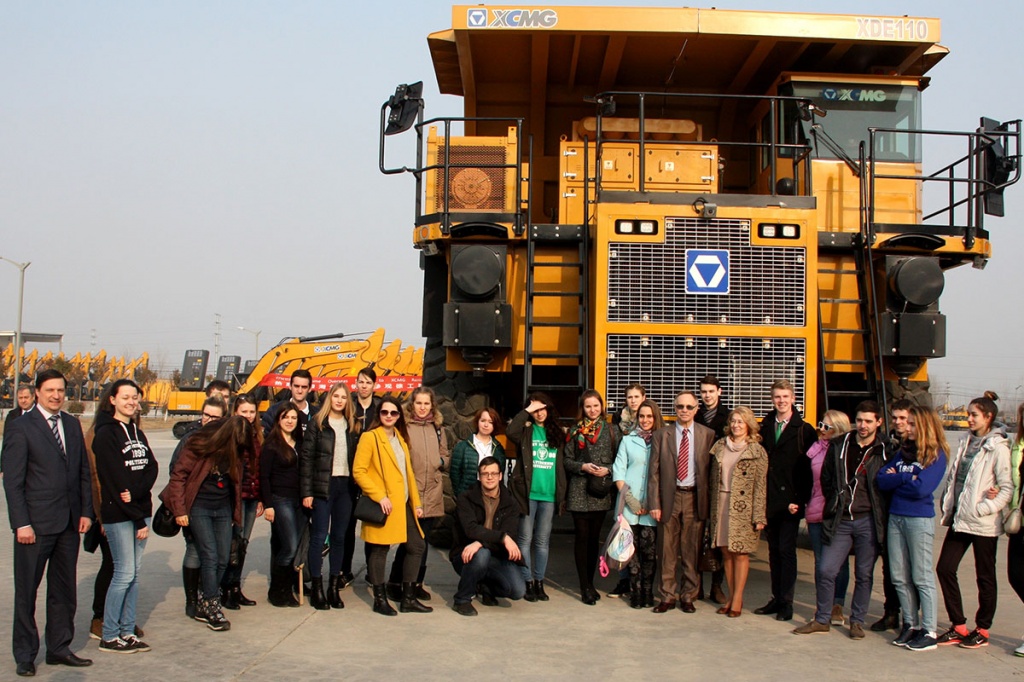 I am sure the Center will be successful, and I would like to point out the willingness to study that Chinese students share. They are extremely open and understanding. My colleagues in China are transmitters of the Russian culture, customs, and traditions. I hope that the Russian Language Center of Jiangsu University will become one of the priority joint projects. We are perfectly aware of our common needs and expectations," I. I. BARANOVA concluded.
All experts confirmed that the material and technical base of the Center complies with international requirements and standards. Each classroom has computers and lingaphone equipment.
A concert that was part of the opening ceremony of the Russian–Chinese Student Forum was dedicated to the beginning of the China–Russia Youth Friendly Exchange Year. Students sang, danced, played musical instruments and had fun otherwise. Launch of the crystal ball of friendship at the ceremony symbolized common hopes and landmark achievements.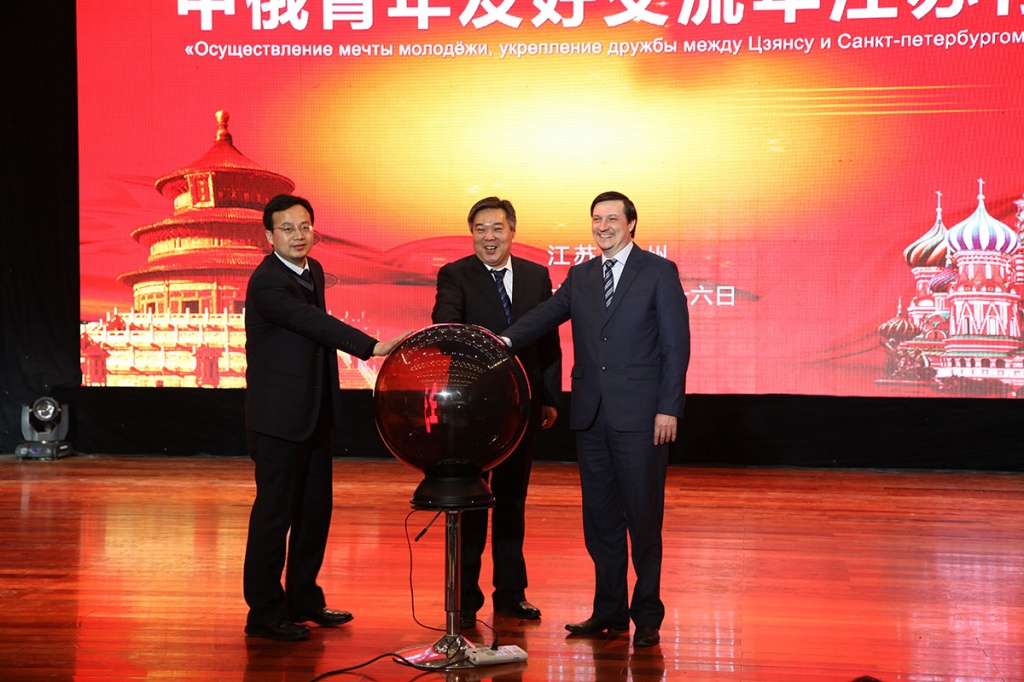 "We got to know our Chinese friends, told them about our habits and hobbies, trying to make the most of our communication. We spent ten unforgettable days together, each of them began with words of friendship and understanding," Irina Guryanova, student of the Institute for Military Engineering and Safety Research, shared.
The program of the Russian–Chinese Student Forum was designed with due consideration of mutual requests and partner agreements. Students attended classes on Chinese language and calligraphy, took part in sporting events and creativity competitions, cooked Chinese dishes, and had fun during guided tours, picnics, and walks.
"For me, a trip to China is a miracle. We got to know many Chinese students, who often accompanied us at various events. They are extremely polite, good-natured, humble, and kind. Thanks to the real-life communication, I learned a lot about the Chinese history and culture, as well as about the day-to-day life of the people who live in this wonderful country," SPbPU student Daria BELOUSOVA claimed.
All SPbPU students praised great organization of the trip to Jiangsu University. For many students, this was their first trip to China, and it was an educational one. More news on the visit to Jiangsu University coming up, with a lot more about the interesting and unforgettable discoveries of SPbPU students, their impressions, and future plans on studying in China.
⁠You can also read about this event on the web-site of Jiangsu Normal University:
International Relations Office
Print version