SPbPU Chamber Choir Performed on the New Stage of the Mariinsky Theatre
Grandiose cantata Carmina Burana by Carl Orff, performed by the combined choir and symphony orchestra of the Mariinksy Theatre and conducted by Andrey Petrenko, sounded on the new stage of the Mariinksy Theatre on the eve of the May Day. Peter the Great St. Petersburg Polytechnic University Chamber Choir participated in the performance too (choragus and conductor – Alexandra Makarova).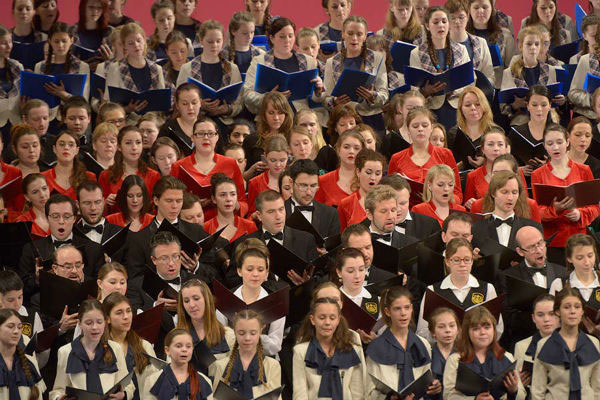 More than three hundred young choristers performed the stage cantata – the well-known piece of music by the German composer. The main role in the concert belonged to the choir of the Mariinsky Theatre: it took part in performing all parts of the cantata. SPbPU Chamber Choir joined in the parts "O Fortune", "Monger, give me colored paint", "They who here go dancing around", "If the whole world were but mine". The performance was spectacular and well-acclaimed by St. Petersburg audience.
This concert became the final evening of a large-scale project by Valery Gergiev aimed at revival of choral singing in Russia – the season of Children's Choirs of Russia. As part of this season, children's bands from Yekaterinburg (Jazz Choir of the Sverdlovsk State Children's Philharmonic Hall), Petrozavodsk ("Tellervo" Choir) and Moscow (Children's choir "Vesna" named after A.S. Ponomarev) performed on the stage of the Mariinsky Theatre Concert Hall.
"It is a great honor for our future polytechnic engineers to be choristers in such a grand project by Valery Gergiev. No doubt, this performance was one of the most dramatic in their musical life" pointed out B.I. KONDIN, the Director of the Department of Youth Creativity and Cultural Programs, SPbPU.
Department of Youth Creativity and Cultural Programs
Print version