Cuatro, Tres, Dos, UNO: SPbPU students presented their own race car!
The muffled light, vigorous music, serious people, cool guys, beautiful girls, and the main thing – an expensive car. You think it is about a set of the movie "The Fast and the Furious"? You are almost right. So lavishly students of the Polytechnic University presented the race car UNO designed and assembled by themselves on the first official day of SPbPU's Week of Science. The presentation was held in modern interiors of the Research Center of the University, and literally transferred guests into the world of high speeds and adrenaline.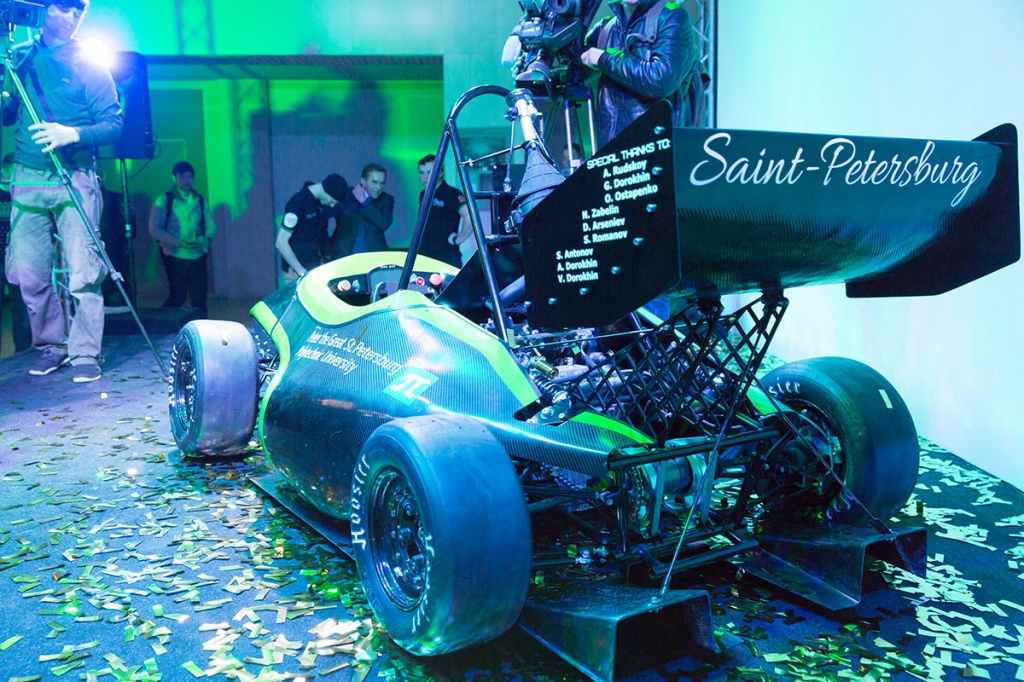 The team of 18 guys – representatives of the 6 institutes – have been working on the creation of the first in the Northwest and in the Polytechnic University student's car of the world racing series "Formula Student" for the whole year. The name of the race car – UNO – points not only to the fact that this car is the first in Saint-Petersburg and the Polytechnic University, but it is also the peculiar demand for leadership in students' races including races at the world level.
The rector of the Polytechnic University Andrey I. Rudskoy visited the festive event, he was really inspired by the presentation wearing a branded T-shirt of the team and shared that he even felt a fine envy: "If only we had had such a thing at our time!"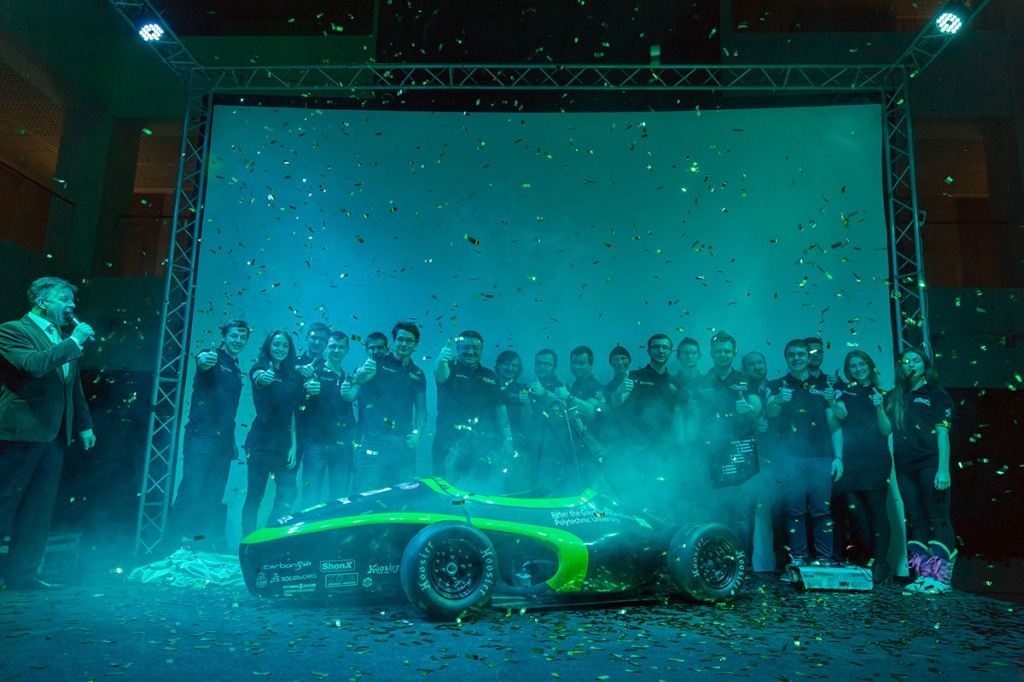 "Happiness is when the student has an opportunity to make the dreams come true not only in the sphere of education, but also being engaged in creativity mainly in the field of engineering. It is happiness not only for students, but for us – teachers and staff of the university –, too. This is happiness and pride in our students' achievements," – stressed A. I. Rudskoy.
The students' car accelerates to 100 km / h..in 4 seconds and weighs only 270 kg together with the driver. The race car has been already tested on a karting circuit, but the platform doesn't allow speeding along at more than 100 km/h. Now in addition to exam preparations, students are preparing for racing. Only four engineers joined the university's racing team: drivers were selected at the rate of small height with the weight up to 68 kg.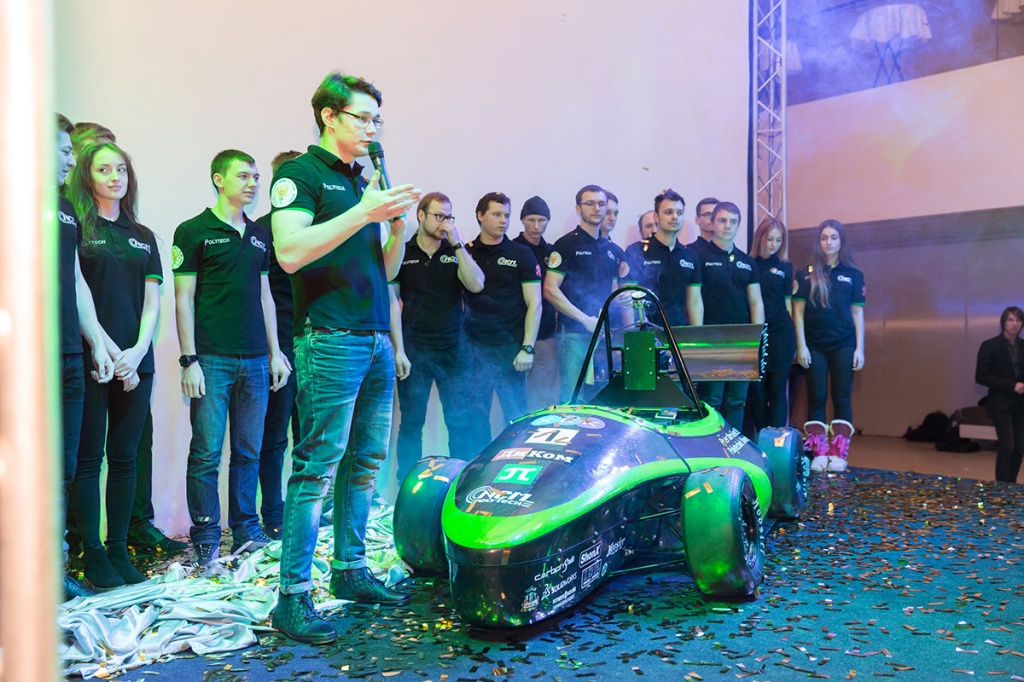 As the director of the Institute of Energy and Transport Systems mentioned, "races are only a small part of this project. Here are concentrated the idea, design, and production of the car – truly polytechnic project!"
The project manager, SPbPU post-graduate Evgeny Zakhlebayev, said: "In a year out team has got something most important for each student – implementation of all the theoretical knowledge and embodiment of our own decisions. Now we are a big united team capable of solving difficult tasks, either technical or not."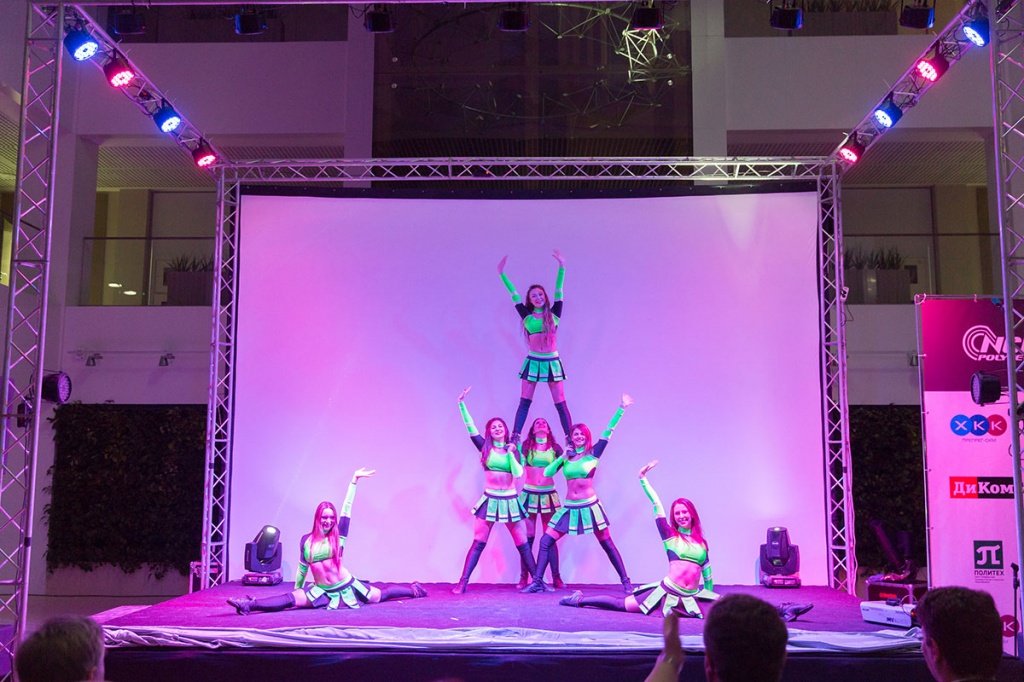 As we have already mentioned, the presentation of the race car took place within the 44th Scientific into Practice Conference "SPbPU's Week of Science." The subject of humanities and space became a keynote of the first official day. The astronaut, Hero of Russia A. Yu. Kaleri visited the presentation of the students' racing car UNO; Alexander Yuriyevich takes part in the conference together with his colleagues from the Scientific Research Institute "Yu. A. Gagarin Research & Test Cosmonaut Training Center." A. Yu. Kaleri emphasized the need of the scientific and technical creativity of youth in the university in order to develop students' potential. In his turn, the University rector A. I. Rudskoy came up with the idea: "The race car created by our students is a starting project. I think the next step will be students' satellite which will fly in outer space glorifying our university!"
The material is prepared by SPbPU media center
Print version