Representatives of URSC and Roscosmos State Corporation Visited SPbPU Engineering Center
Representatives of URSC and Roscosmos State Corporation Visited SPbPU Engineering Center
Representatives of the United Rocket and Space Corporation (URSC) and the Roscosmos State Corporation visited the Computer Engineering Center (CompMechLab®) of Peter the Great St. Petersburg Polytechnic University.
The meeting, which was attended by Deputy General Director for HR and Social Policy of URSC A.A. Vuchkovich, Director of the Roscosmos Staff Development Department E.B. Stepanov, and Adviser to General Director of the Arsenal Design Office (part of URSC) V.F. Ryzhkov, was devoted to discussing problems of the corporations' personnel development.
At the meeting, Vice-Rector for Innovative Projects, Head of SPbPU Computer Engineering Center (CEC) A.I. Borovkov shared brief information on directions of CEC work. Professor A.I. Borovkov talked about many years of the successful work experience of CompMechLab® for aerospace industry, motor-car construction, propulsion engineering, shipbuilding, in the field of nuclear power, oil and gas industry, etc. and also presented a number of projects designed by CompMechLab® specialists for the leading aerospace companies like Airbus, Boeing, UAC / "Irkut" , UEC / "Klimov", URSC / OAO S.P. Korolev Rocket and Space Corporation Energia, Machine-Building Plant "Arsenal", the Scientific Research Institute of Control Units, and others.
Within the framework of CEC presentation, A.I. Borovkov emphasized that an important part in developing future markets is played by advanced manufacturing technologies, including additive technologies, which allow creating best-in-class optimized structures, which cannot be made by using modern multi-axle CNC machines. Additive technologies enable solving relevant for the aerospace industry problems of weight reduction of parts satisfying all the technical requirements (durability, rigidity, vibration survival capability, cost, etc.). For example, the guests saw the aviation bracket which was designed at CEC and created with an industrial 3D-printer with Selective Laser Melting. It is 4.39 times lighter than the original part made with techniques, traditional for the industry.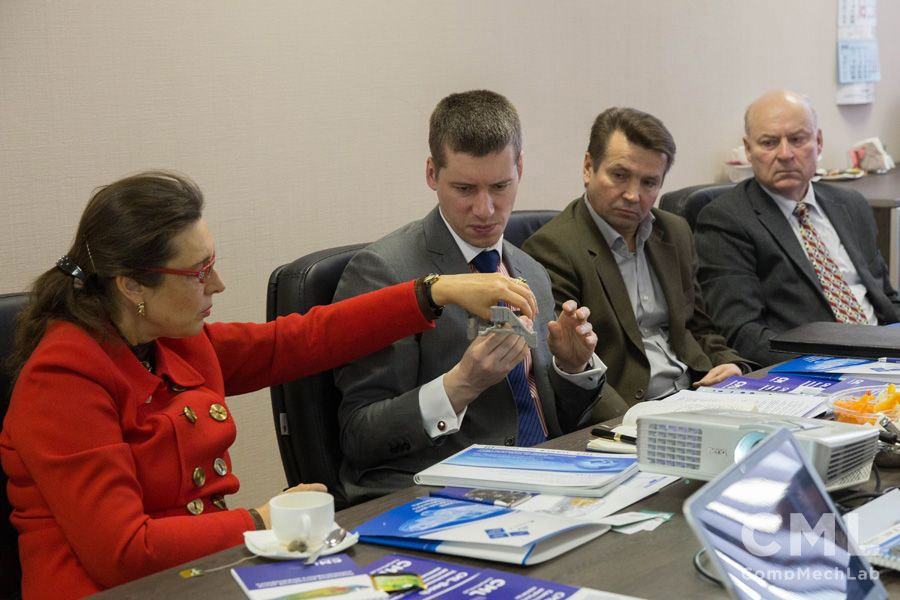 Prof. A.I. Borovkov also talked about SPbPU's Institute of Advanced Manufacturing Technologies opened in 2015, the key department of which is CEC. "The Institute will let us significantly enhance our competencies, both in computer engineering (where we hold the leading positions in the country and in the world) and in additive technologies. Our activity is multifaceted and broad, but it practically always implies involving best students into work with high-tech companies at the world level," – emphasized the Head of SPbPU's Engineering Center.
Computer Engineering Center is one of the national leaders in the cooperation with manufacturers and in the educational sphere, due to attracting best students to projects in the interests of world high-tech leading companies. In order to support this, prof. A.I. Borovkov demonstrated bachelor's and master's degree theses to the representatives of URSC and the Roscosmos State Corporation. The theses were done under CEC employees' supervision, and each thesis is connected with the problems of a real economy sector.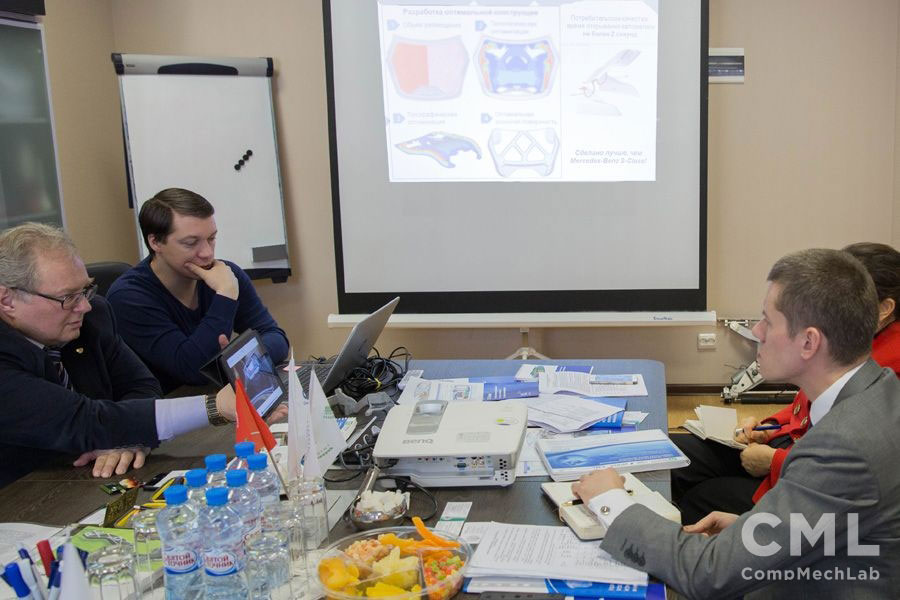 Deputy General Director for HR and Social Policy of URSC A.A. Vuchkovich rated high as realized projects, as the potentialities of the Engineering Center, noting the necessity of working on joint educational projects for personnel training and also discussing the implementation of target programs for SPbPU's Institute of Advanced Manufacturing Technologies. "You have the competencies which are either unique for the industry, or you are national champions in them. Apart from joint educational projects, we also consider necessary to ensure closer horizontal interaction of SPbPU's Engineering Center with factories," – summed up A.A. Vuchkovich.
For more details see: http://fea.ru/news/6361
Media Center, SPbPU
Print version