SPbPU enhances cooperation with major Russian and foreign car manufacturers
Peter the Great St. Petersburg Polytechnic University is involved in extensive development of joint projects with major Russian and foreign car manufacturers. Last Friday, on November 13, Rector of SPbPU A. I. Rudskoy met Vincenzo Bevilacgua, Leading Engine Diagnostic Engineer from Porsche Engineering Services and V. P. Petunin from AVTOVAZ, the largest Russian car manufacturer (Engineering Executive Vice-President Service, Engine Design and Development Management).
N. A. Zabelin, Director of the Institute of Power Engineering and Transportation at SPbPU, and Evgeny Zakhlebaev, Head of the Polytech NCM racing team in the Formula Student class, also attended the meeting. The main point of discussion was the enhancement of cooperation between the Polytechnic University and major Russian and foreign car manufacturers.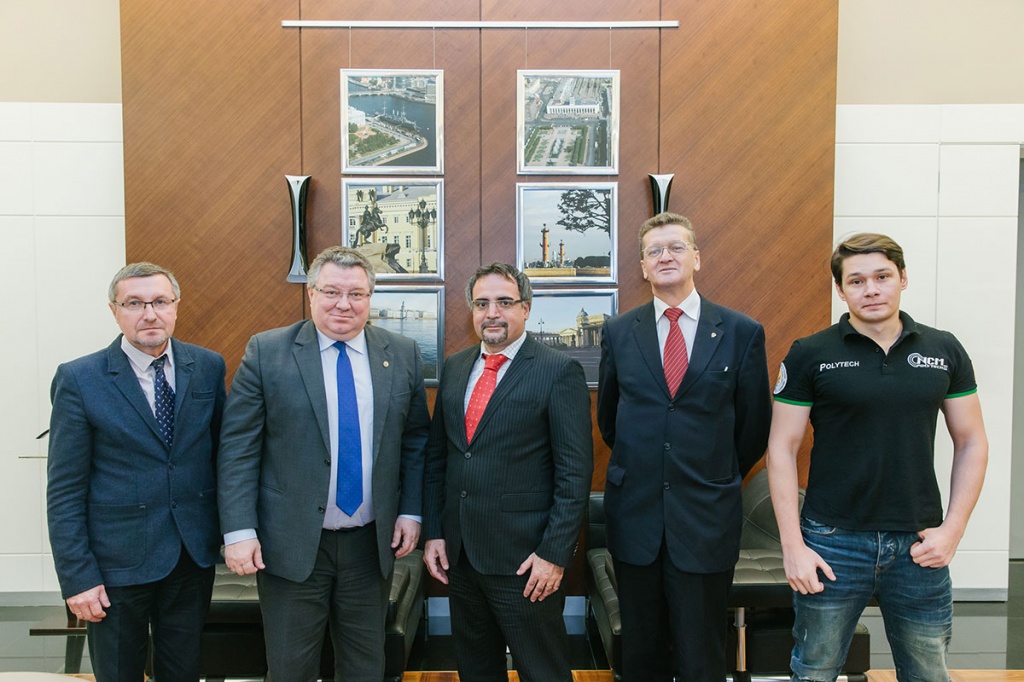 In his welcoming speech, the Rector noted that it is a great honor for the Polytechnic University to host a delegate from such a respected company. "Porsche is a world-famous car manufacturer. We have contacts with many car companies, and we are seeking to enhance this kind of cooperation. It is very important for us. I am glad that you are willing to negotiate despite the complex political situation. Politics aside, we must concentrate on research and scientific developments. Today, I would like to discuss the steps that we could take to enhance our cooperation." A. I. Rudskoy explained.
Talking about SPbPU's contribution to the automotive industry, Andrey Ivanovich emphasized the fact that the university not only provides quality experts for the industry, but also conducts research for its benefit. In order to prove this, the Rector recommended that the guests visited SPbPU Engineering Center and briefly described its activities. Today, SPbPU Computer Engineering Center (CompMechLab®) is seamlessly integrated in the technological chains of such reputed car manufacturers as BMW Group, Ferrari, General Motors, Volkswagen Group, etc. The Rector believes that it proves the demand for SPbPU developments. "Employees at the Engineering Center have world-class expertise, solve industrial tasks of any complexity as part of the complete cycle of car design and engineering works from designing the body to improving car performance according to global standards," A. I. Rudskoy explained.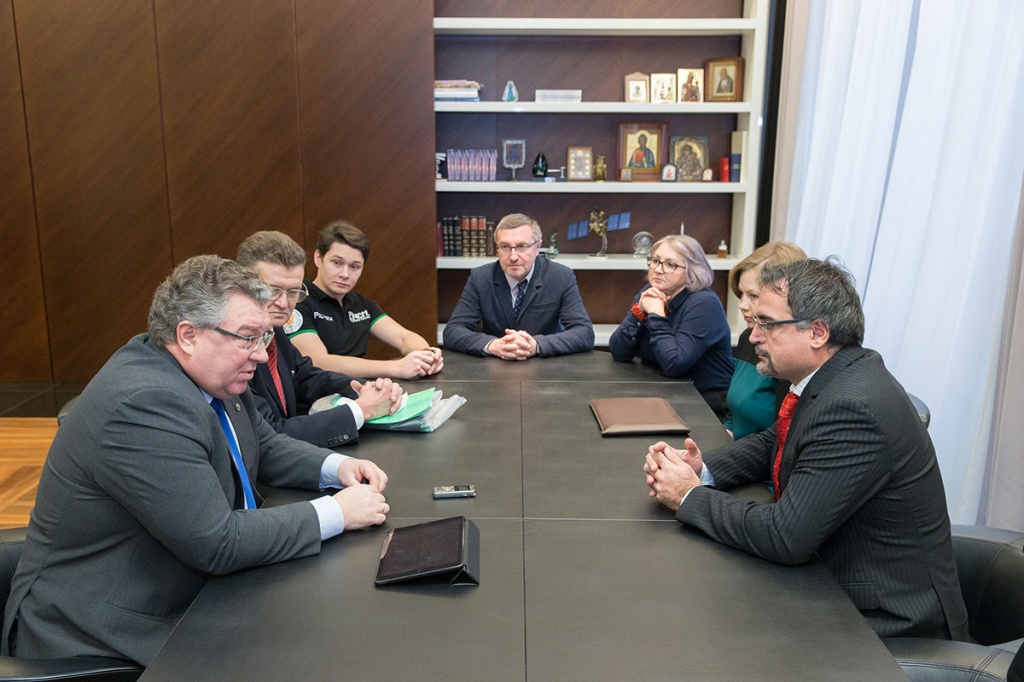 One of the key factors of successful cooperation is transparency and willingness to interact and cooperate. Porsche Engineering Services delegate Vincenzo Bevilacgua views the development of economic relations between countries despite current political situation as the main purpose of his visit to the Polytechnic University. "We are engineers, leave politics for politicians. Porsche is enhancing cooperation with Russian automotive industry and we are even planning to open a production plant in St. Petersburg. Getting back to our meeting, I would like to discuss academic cooperation with the Polytechnic University. A lecture for your students would be a good start (the Leading Engine Diagnostic Engineer from Porsche Engineering Services gave SPbPU students a lecture on turbocharged engines – Editor's note). We'll start with small projects and then develop further," Mr. Bevilacgua proposed.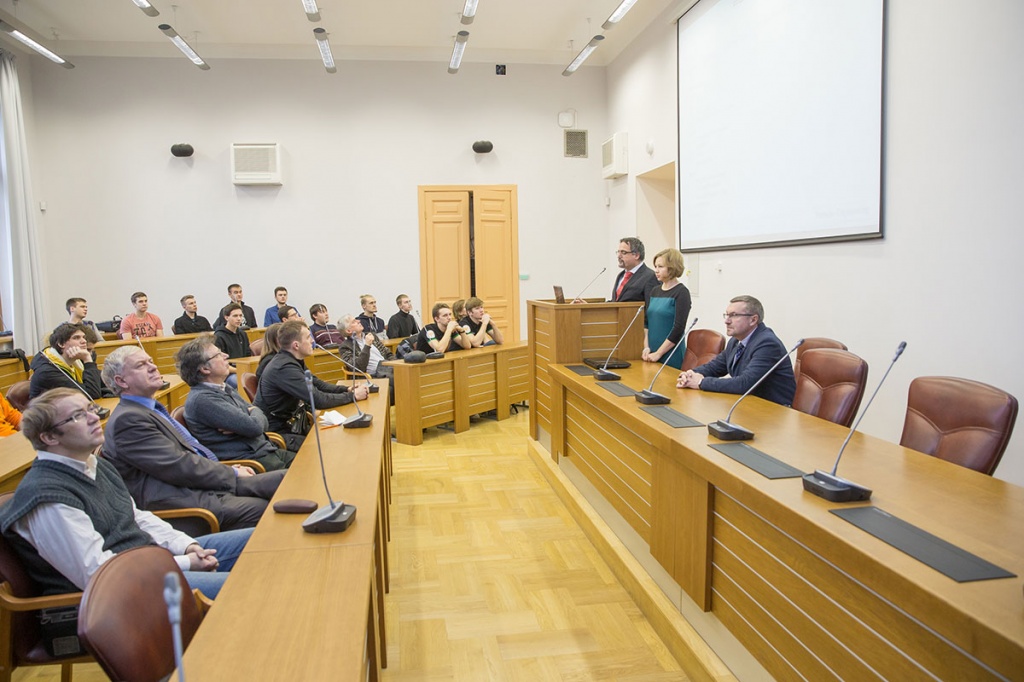 In the course of the further talks Vincenzo Bevilacgua admitted taking particular interest in our Formula Student racing team and recalled his experience of funding the Porsche student racing team at the University of Stuttgart. Among possible events in the context of cooperation with the Polytechnic University, Mr. Bevilacgua named internships at Porsche for the best SPbPU students and seminars on thermodynamic processes in engines at our university.
Summing up the meeting, AVTOVAZ delegate V. P. Petunin deemed the conversation to be beneficial, and claimed that future joint projects with SPbPU have good prospects. "The cooperation between AVTOVAZ and the Polytechnic University dates back a long time. We are now turning a new leaf in terms of encouraging various companies to give lectures, share experience and maybe even create joint engineering centers. These are the main short-term objectives," V. P. Petunin said in a video interview for the Media Center.
Brought to you by SPbPU Media Center
Print version