Representatives of Jiangsu Institute of Economic and Trade Technology at Institute of Industrial Management, Economics and Trade, SPbPU
Representatives of Jiangsu Institute of Economic and Trade Technology at Institute of Industrial Management, Economics and Trade, SPbPU
The delegation of Jiangsu Institute of Economic and Trade Technology, China, visited the Institute of Industrial Management, Economics and Trade (IIMET) at Peter the Great St. Petersburg Polytechnic University.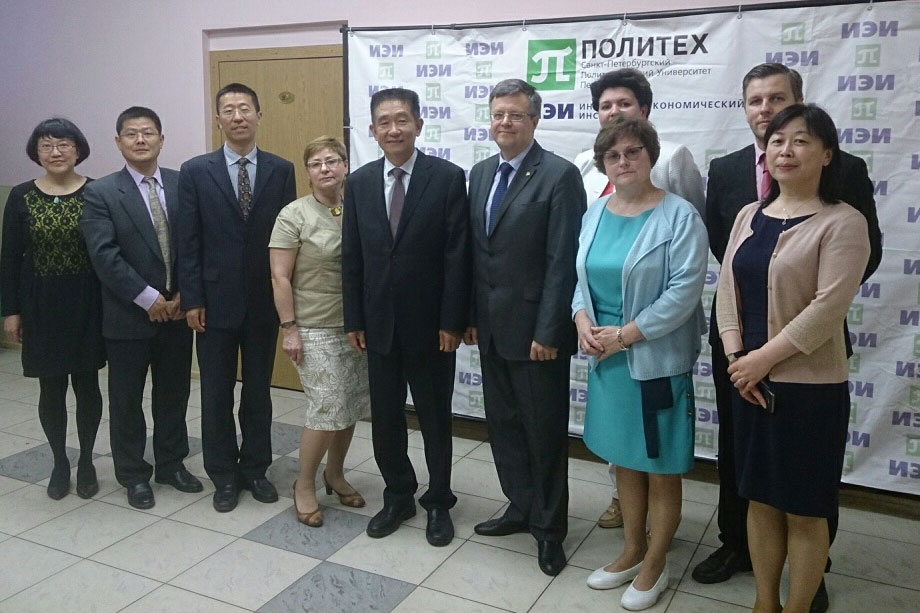 The delegation from the People's Republic of China was headed by Jiang Yuner, President of the Institute. At the beginning of the visit the parties presented their universities and exchanged information related to common interests. Greeting his foreign colleagues, V.E. Shchepinin, Director of IIEMT, claimed that cooperation with foreign universities, and Chinese universities in particular, is one of the priority tasks for the Polytechnic University. V.E. Shchepinin also outlined the promising areas for collaboration: student and lecturer exchange programs, joint educational programs and joint degree programs, joint postgraduate programs, as well as summer and winter schools.
It is worth mentioning that both universities offer educational programs in the field of economics, management, service, trade, and food biotechnologies, which can be of great interest for further development.
Special attention was paid to the prospects of joining the efforts of IIMET and the Chinese university in order to cooperate with the Higher School of Internal and External Trade and the Higher School of Biotechnology and Food Biotechnologies, whose heads, I.V. Kapustina and Yu.G. Bazarnova were also present at the meeting.
In his presentation devoted to educational programs and research carried out at the institute V.V. Shchegolev, Deputy Director for International Relations, drew attention of his foreign colleagues to educational programs in English successfully implemented at SPbPU and which could be interesting for students from China.
At the end of the fruitful meeting, addressing his Chinese colleagues, V.E. Shchepinin expressed a hope to establish long-term contacts and implement projects together in the sphere of education and science.
Institute of Industrial Management, Economics and Trade
Print version