More and more international students come to Polytech for studies
Since the start of the year the staff of the International Education Office have received and processed more than 3500 applications from people all over the globe wishing to study at Polytech. An enrollment campaign is still going on, and it's quite early to talk about the ultimate result. At the same time it is clear that the number of applications has highly increased in comparison with 2016.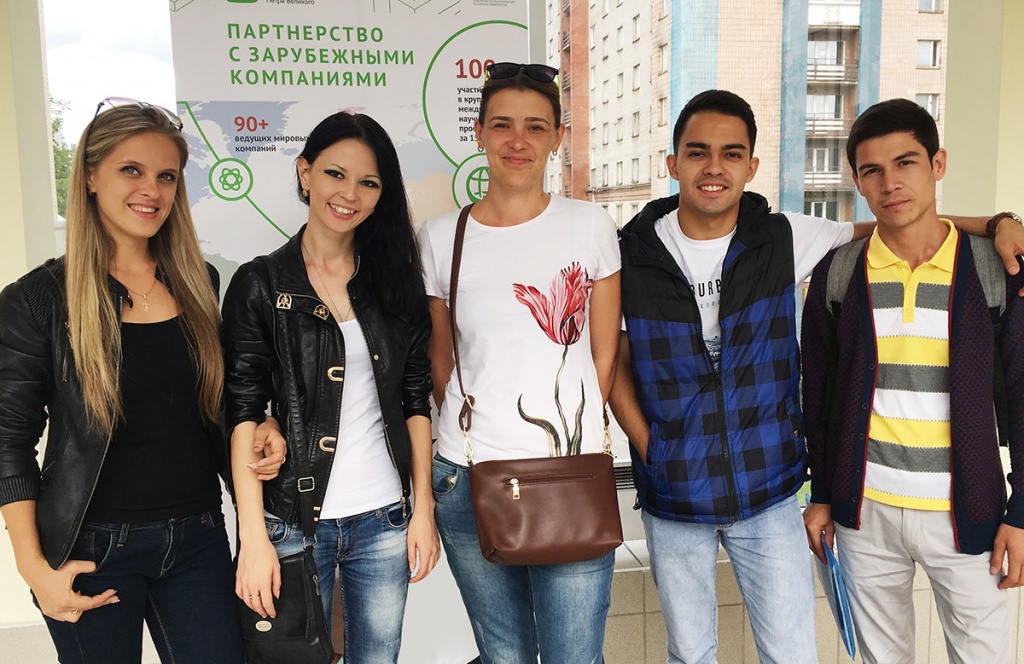 Most of applications came from India, Latin America, Egypt and Iran. Among the CIS the leading positions have Uzbekistan and Kazakhstan. This year there is a bigger interest in Institute of Computer Science and Technology (ICST), Institute of Energy and Transport Systems (IETS), Institute of Humanities, Institute of Civil Engineering (ICE) among school-leavers. However, most of international school-leavers preferred the Institute of Industrial Economics and Management: the amount of applicants exceeded 250.
About 150 international students expressed their wish to study for Bachelor's or Master's degrees in English. Bachelor's programs in Russian traditionally are in demand: more than 450 young people submitted their documents. 120 students are going to study for Master's degrees, 23 people are willing to become post-graduate students of SPbPU.
Economics, Management, Information Technology, Energy and Civil Engineering are still the most popular fields of study among potential international students.
'Flexibility and individual attention to international students are our advantages, – says the Head of International Education Office E.V. Satalkina, – we implement a wide range of fields of knowledge. Except for traditional Bachelor's, Master's and PhD programs our students have an opportunity to study at International Educational Programs and Double Degree Programs. The interest for University Foundation Programs has significantly increased: over the last years we have consistently recruited more than 600 international students'.
This year among the students expressed their wish to study for Master's Degree programs there are students from Tashkent Institute of Irrigation and Agricultural Mechanization Engineers (TIIAME, Uzbekistan). Recently TIIAME representatives have visited ICE SPbPU and have renewed Cooperation Agreement between ICE SPbPU and TIIAME.
'The issue if water resources in Central Asia, especially in Uzbekistan, is still an up-to-date problem, – says TIIAME graduate Olga MELIKSETYAN, – Polytech is a university with a great history, which is from the very beginning joint in a problem solving, connected with the use of rivers as continuously renewable energy sources. Almost a third of all major hydraulic structures on the territory of USSR were designed and created under the guidance of your scientists. That is why this is the place I would like to continue my scholarly endeavor in hydraulic engineering. There are Master's degree and PhD degree at SPbPU in my plans'.
TIIAME graduates Dayana KRASNOLOBOVA and Lyudmila LUTSENKO are also going to continue their studies at ICE SPbPU. Both of them are sure that the information and experience exchange, meeting new people and the opportunity of joint projects are able to make the educational process more fruitful and effective.
Print version