#What_to_become: a Master's degree program in Engineering Environmental Protection in Urban Development
At present, professions aimed at the environmental protection become increasingly essential. Specialists who are able not only to design structures but also solve urban environmental issues, develop and apply modern environmental protection methods and technologies, are more and more on demand in the job market.
"Scholars all over the world ring the alarm about the state of the environment in large cities. Industrial and energy production facilities and transport cause great harm to the environment, which adversely affects people's health. This is especially true for those who live in industrial centers and/or near production enterprises," said A.N. CHUSOV, head of the scientific part of the Engineering Environmental Protection in Urban Development International Program, candidate of technical sciences, associate professor.
The goal of developing a system of environmental education and awareness, personnel development in the field of environmental safety was supported at the top government level: in 2017, a relevant decree "On the Environmental Security Strategy of the Russian Federation for the period up to 2025" was signed by the RF President.
All these factors have played a key role in the creation of a new international Master's degree program in Engineering Environmental Protection in Urban Development, which is implemented at SPbPU on the basis of the Civil Engineering Institute (CES).
In addition to general construction areas, in which students receive skills in the design of various structures and learn to work with modern BIM and GIS technologies, the new international educational program includes disciplines related to environmental protection. These include "Sustainable development of nature-technical systems," "Physical and chemical basics of environmental protection and monitoring," "Purification methods for natural and waste waters," "Industrial and community waste management," etc. Such a symbiosis of construction and environmental disciplines leads to broadening the horizons of future graduates, teaches them to design not just engineering facilities but environmentally friendly objects with the lowest presently accessible impact on the environment.
Within the frame of the Engineering Environmental Protection in Urban Development international educational program, the students will study such modules as mathematical modeling and BIM technologies, fundamentals of environmental protection in construction development, applied ecology in the construction, etc.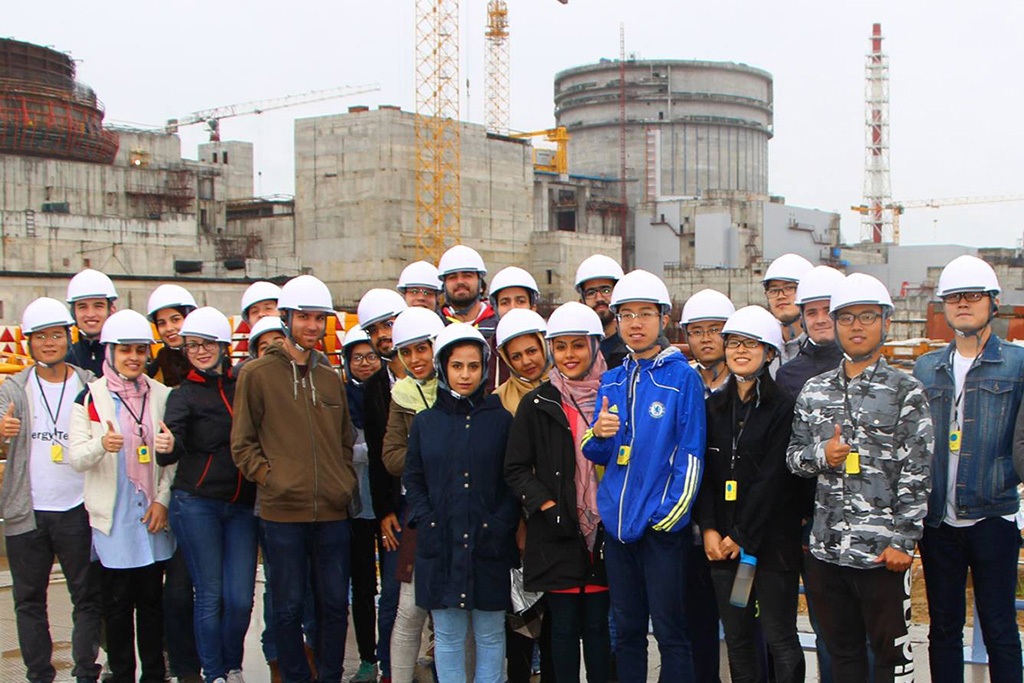 A large-scale research work is also included in the program. The SPbPU Civil Engineering Institute, on the basis of which the program is implemented, has a state-of-the-arts laboratory base: laboratories of industrial ecology, solid waste recycling, engineering ecology and monitoring, etc. All this allows the students to acquire practical skills at a good level.
Program coordinators are planning to actively involve students in international projects implemented both at the Institute and on the contract basis with various city and regional organizations and companies. For example, students of the CEI took part in an international project "NISMIST. Environmental risk management from solid waste landfills in seismically active regions of Central Asian countries within the framework of the 6th Framework Program;" in the international project on the "Decision-making instruments in the system of integrated coastal zone management at the example of the municipal unit of the city of Primorsk" within the frame of trans-border cooperation program, etc.
"We actively engage professors from other countries in the educational process. The problems of environmental quality are international, and relevant in almost any world country. We invite leading foreign experts to conduct classes at SPbPU," said A.N. CHUSOV.
At various times, such experts as Professor Frank Rögener from Cologne University of Applied Sciences, Professor Marko Ritzkowski from the University of Technology Hamburg-Harburg, Professor Vincenzo Bianco from the University of Genoa, Professor Hannu Antero Poutiaynen from Saimaa University of Applied Sciences, etc., have already lectured at CEI. All of them and many others are invited to give lectures to the new SPbPU international educational program. In addition, students will be able to take internships at SPbPU partner universities, such as the Lappeenranta University of Technology (LUT; Finland), Hamburg University of Technology (TUHH; Germany), University of Genoa (UniGe; Italy), Cologne University of Applied Sciences (TH Köln; Germany).
Upon completion of training, graduates will be able to work in transnational construction and environmental organizations, design and research institutes, environmental municipal and public service organizations, as well as conduct research work. Among the possible places for employment are the Finnish YIT Corporation, Swedish construction company Bonava, St. Petersburg Research Center for Environmental Safety of the RAS, and many others.
The Engineering Environmental Protection in Urban Development Program is open to students with a Bachelor's degree / Specialist's degree in engineering sciences, civil engineering, or a related field. Since the program is taught in English, the minimum level of proficiency in English should be no lower than B +.
Do you still have questions? Ask the program coordinator: Maria Yu. Andrianova: andrianova_myu@spbstu.ru
Prepared by International Academic Cooperation Department. Text: Olga DOROFEEVA
Print version