#What_to_become: a Master's Degree Program in New Materials and Additive Technologies
The rapid progress in additive technologies throughout the world induced the establishment of a new international educational program at SPbPU: the New Materials and Additive Technologies program will be implemented on the basis of the Institute of Metallurgy, Mechanical Engineering, and Transport. The first students will be admitted to the program already this year.
Graduates of the new international Master's degree program will have employment opportunities in Russian and foreign industrial companies engaged in the materials science field. They can also continue research activities working in Russian and international R&D groups.
The New Materials and Additive Technologies program already has many partners: Zhejiang University (PRC), Shanghai Jiao Tong University (PRC), Polytechnic University of Turin (Italy), Aalto University (Finland), and Graz University of Technology (Austria).
The future Master's degree holders will enjoy lectures of leading Russian and a core of international faculty from China, Finland, Austria, Germany and other countries. Within the frame of the educational process, the students will hold experimental works at SPbPU scientific research laboratories: the Russian-Chinese Laboratory of Functional Materials; the Laboratory of Light Materials and Constructions; the Laboratory of Studying and Modeling of Structures and Properties of Metal Materials. The program foresees student international academic mobility: for a whole semester, all students of the New Materials and Additive Technologies program will take internships at one of SPbPU partner universities: Technical University of Berlin, Leibniz University of Hanover, Brandenburg Technical University of Cottbus (Germany); or Lappeenranta University of Technology (Finland). The training is conducted in English.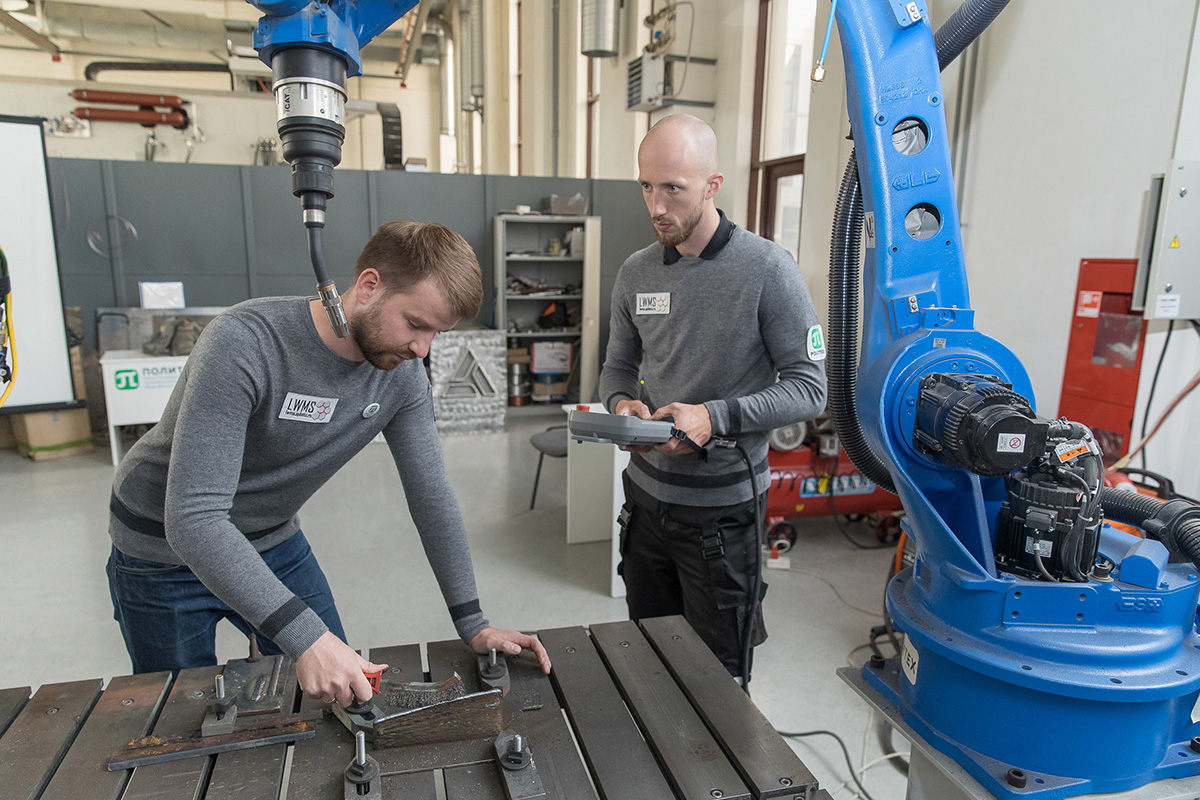 The new program presumes an in-depth study of the additive technologies and related areas of materials science. Professional courses on modeling processes of metal forming, automation, solid-phase methods of bonding, etc. are also included. Research work in the area of steelmaking, foundry, rolling production, and diverse project activities is in the curriculum.
The list of major courses that students will study includes:
Materials Science
Additive technology
Bonding methods for the solid phase
Modeling the formation of the structure and properties of metals and alloys
Automation and robotics
Resource saving technologies
Master's degree students' research work
The New Materials and Additive Technologies Program is open to students with a Bachelor's degree / Specialist's degree in physics, engineering physics, applied physics, materials science or a related field. Since the program is taught in English, the minimum level of proficiency in English should be no lower than B +.
Do you still have questions? Ask the program coordinator, candidate of technical sciences, associate professor of the department "Technology and materials research" A.A. NAUMOV:
Prepared by International Academic Cooperation Department. Text: Olga DOROFEEVA
Print version