Nanotechnologies is the Priority Issue of SPbPU and the Pierre and Marie Curie University Collaboration
Nanotechnologies is the Priority Issue of SPbPU and the Pierre and Marie Curie University Collaboration
During a one-week visit of the Pierre and Marie Curie University representatives to Saint-Petersburg Polytechnic University, the parties addressed the major aspects of the cooperation with the Institute of Physics, Nanotechnologies and Telecommunications, SPbPU.
Jean-Baptiste de Lakailleri D'Espinoz, Chief Deputy of International Academic Programs Department and Nadine Witkowski, the Master's Program Advisor visited the laboratories of IPNT where they got an opportunity to have a look at academic syllabi in Physics. Together with the colleagues from SPbPU International Departments, they discussed the prospects for student exchange and internship programs and the participation of French students in the Polytechnic University Summer Schools. Moreover, the negotiations on the opportunity to arrange a joint post-graduate program took place.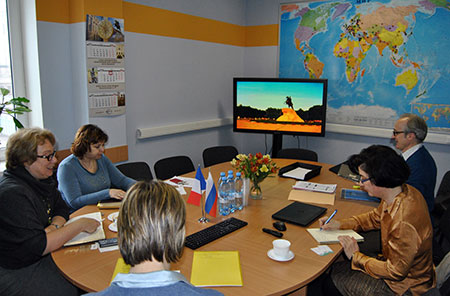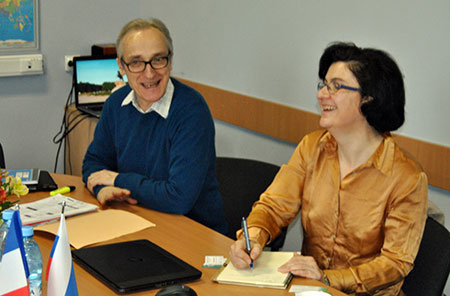 Also, the possibility of a double degree program development by the profile "Mesoscopy and Non-conventional Material" was discussed. The visit resulted in the preparation of the framework cooperation agreement on international academic programs. SPbPU and the Pierre and Marie Curie University have agreed the academic syllabi of Master's degrees so far.
For the reference
The Pierre and Marie Curie University is ranked 15st in the world according to the QS World University Ranking. Being established in 1901, the university got its official name only in 1974. In 1990, The Henri Poincare University became a part of the Pierre and Marie Curie University as well as the Paris Institute of Astrophysics in 2001. Within the University, the "Sorbonne Doctoral College" for PhD candidates and the Polytech Paris UPMC School were opened in 2005. Today the Pierre and Marie Curie University has about 34 thousand students, more than 10 thousand staff members including 6200 researchers and professors.
Print version