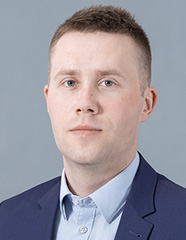 Science degree:

PhD in Economics

Position:

vice-rector for information and social work
29 Polytechnicheskaya Str., St. Petersburg
Maxim A. Pasholikov graduated from Peter the Great St. Petersburg Polytechnic University in 2012. In 2017, he defended the candidate thesis (in the field of economics, organization and management of enterprises, branches, and complexes in the industry).
Since 2014, he has been the Chair of the SPbPU Trade Union of students and postgraduate students.
Also, since 2014, he had served as rector's assistant on the youth affairs.
Since 2014, he has worked as a researcher, member of several research groups developing projects on "Research and development of an economic mechanism and a scientific and methodical tool for resource management of an enterprise focused on innovation" and "Scientific and methodological approaches to the analysis of social and economic problems of nonresident students living in dormitories of educational organizations of higher education, taking into account the specifics of regional legislation of the subjects of the Russian Federation."
Within the frame of public activities, he had been the Chair of the Student Council of St. Petersburg; in 2014-2017, he was member of the Coordination Council on Youth Affairs in the scientific and educational spheres of the Council for Science and Education under the President of the Russian Federation.
M. A. Pasholikov is full member of the Council for Youth Affairs of the Ministry of Education and Science of Russia.