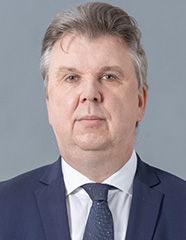 195221, Saint-Petersburg, Polytechnicheskaya str., 29
Alexander V. Rechinsky graduated from the Computer Science Faculty of Leningrad Polytechnic Institute, the department of "Information and Control Systems" in 1989.
He received the additional qualification in the field of "Management" in 1999. In 2002 he got his PhD Degree. Since 1991 Alexander V. Rechinsky has been a University lecturer, and in 2002 he became the Head of Retraining Department. In 2004 he was appointed Director of the Institute of State Management and Informatisation of SPbSPU. From 2007 up to now he is the Vice-Rector of SPbPU.
The area of expertise of Alexander V. Rechinsky covers Database control systems and Personnel Management.