Technology Leadership and Entrepreneurship
Seeing that a great number of new technologies is emerging and our environment is constantly changing, leading to uncertainty, there is a huge need for people with entrepreneurial skills who can find an answer to these challenges. Companies are looking for employees who are able to generate new ideas, are ready to learn fast and to adapt easily to rapid changes.
The program is aimed at training specialists with competences in the sphere of "Technology Entrepreneurship and advanced technology". It aims to develop skills that can be applied for the creation and development of scientific business.
The program consists of two main tracks: Entrepreneurship (tech) and Intrapreneurship. It offers a unique opportunity to turn students` technology business ideas into successful start-ups (Tech entrepreneurship) or to develop leaders and professionals inside the innovative ventures (Intrapreneurship and digital transformation).
Who you will become: Tech Entrepreneur. Innovation project managers. Developers of internal entrepreneurship support systems. Leaders of digital transformation. The researchers of the processes of entrepreneurship (tech).
Area of study: "Launching and managing knowledge-intensive production"
! Attention
The submission of documents by foreign applicants of the international Master's degree program "Technology Leadership and Entrepreneurship" is extended until August 17, 2022.
The scheduled start date for classes for this Master's degree program is September 2, 2022.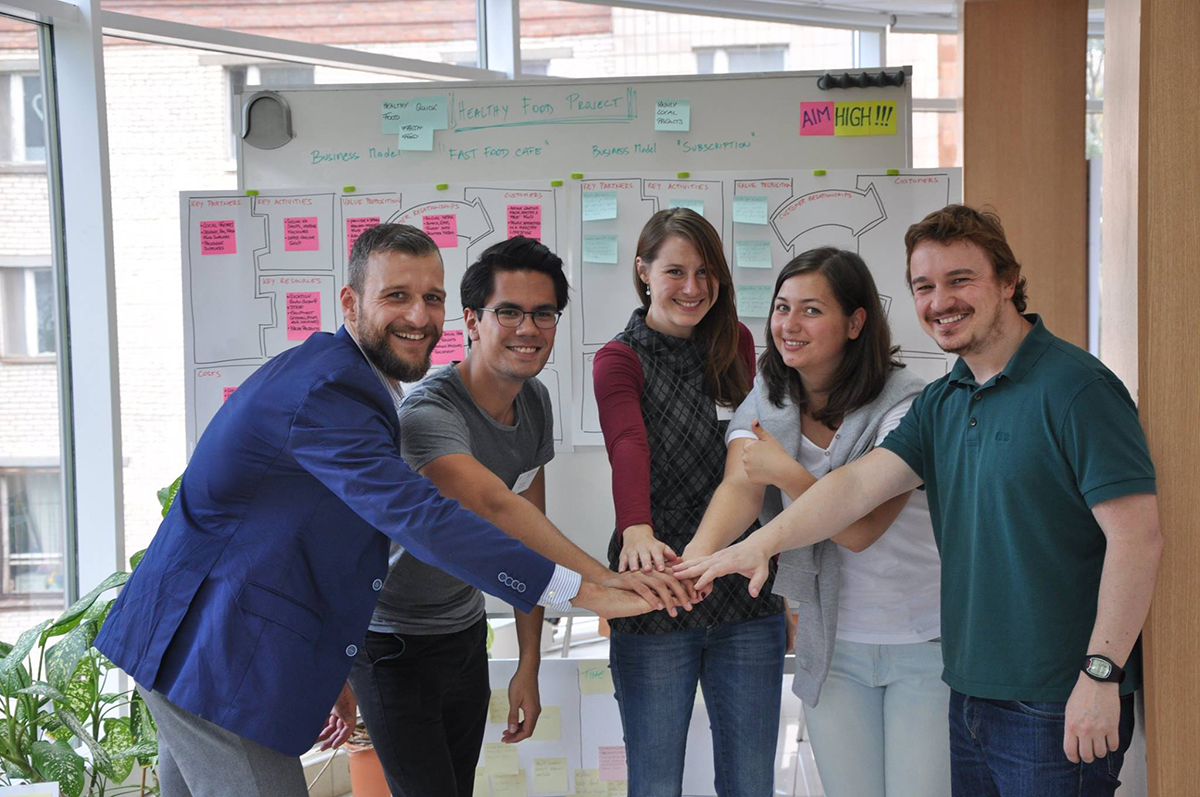 FEATURES OF EDUCATION
Individual approach to each student
Modern teaching formats: round tables, business simulations, coaching, etc.
Expert support instead of classical teaching.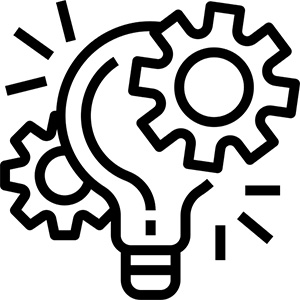 Project learning
During the study students work on their own startup or consulting or a research project, including on the basis of the Russian-German Center of Innovation and Entrepreneurship "Polytech Strascheg".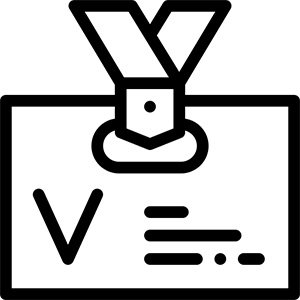 Foreign Internship
Exchange semester with foreign university partners: Germany, Finland, France, Turkey, etc.
Cross-cultural environment
Study with international students. Classes and intensives are conducted by leading Russian and foreign teachers, trainers, business angels and venture investors.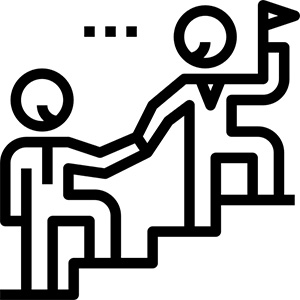 Individual learning trajectories
Educational tracks "Technological Entrepreneurship" (startup graduation theses) and "Intrapreneurship and digital transformation" (consulting and research graduation theses).
About the program
Entry requirements

You must hold a bachelors or masters degree from a recognized university in any field of studies. Your spoken and written English must be of an adequate level for postgraduate study (B1+).

Degree awarded

Master's Degree
(Peter the Great St. Petersburg Polytechnic University, Russia)

Career opportunities

The program offers a unique opportunity to start your own business while studying at university. Other graduates can work as managers of innovation projects or heads of innovative business development. Besides, our graduates may continue their studies to get PhD.

Employment. Job positions

Entrepreneurs in the high-tech sector.
Innovation project managers.
The researchers of the processes of entrepreneurship.
Managers for commercialization and transfer of innovations.


Program duration

2 years, full-time

Total workload / Credits

120 ECTS

Tuition fee per year:

436 000 Rubles

Language

The program is taught in English



Admission procedure
Step 1. You apply for the programme
Step 2. You are invited to an interview where you will be asked questions about your background and motivation
Step 3. You take part in a written online examination on the topic of economics of enterprise
Step 4. We will be glad to have all your questions on shchegolev@kafedrapik.ru

1 semester
The first term is a broad view on what you will do during your master. Firstly we provide some courses for personal development. You will know how to be a leader and find your own way in the world. Every educational module is a reflection of studying philosophy "Learning by doing". All students will get a possibility to work in a team on a real project to present it at the end of the semester.
2 semester
Starting from the second term we divided the program into 2 tracks: Entrepreneurship (tech) and Intrapreneurship and digital transformation. Now you may continue working on your own idea or start learning about intrapreneurship. During the whole semester students from Track 2 will have an internship in the already existing project. Students from Track 1 will work on their own projects.
3 semester
Running into the third semester you have to make a decision which track is more convenient for you. Both tracks are focused on co-creation education. You continue working on your business project or developing your existing project. All students will gain cross-cultural skills and will learn to make their business successful in the global market.
4 semester
The final term is reserved for the writing of your master thesis. Your master thesis can be a business plan of your venture, a consultancy plan for a company or research work on Entrepreneurship.
Startup graduation theses:
EdTech: development of a gamified mobile application for teaching soft and life skills.
Developing a personal motivation platform using blockchain technology.
Creation of an IT startup "Scanface" on psychodiagnostics based on machine learning and a spin-off strategy of the project "Luna".
Biocompatible electrode technology for electroencephalography.
Consulting graduation theses:
Developing a smart contract-based reputation system for b2b businesses.
Development of a set of recommendations for the commercialization of Russian electric vehicles.
Commercialization of automated jet electrolyte-plasma polishing technology in high-tech markets.
Research graduation theses:
Developing recommendations for institutional support for entrepreneurs in the industrial revolution 4.0.
Research of technology application in industrial enterprise supply chain management.
The role of technologies in the process of value creation in the Blue Ocean strategy framework (on the example of Russian and French tech startups).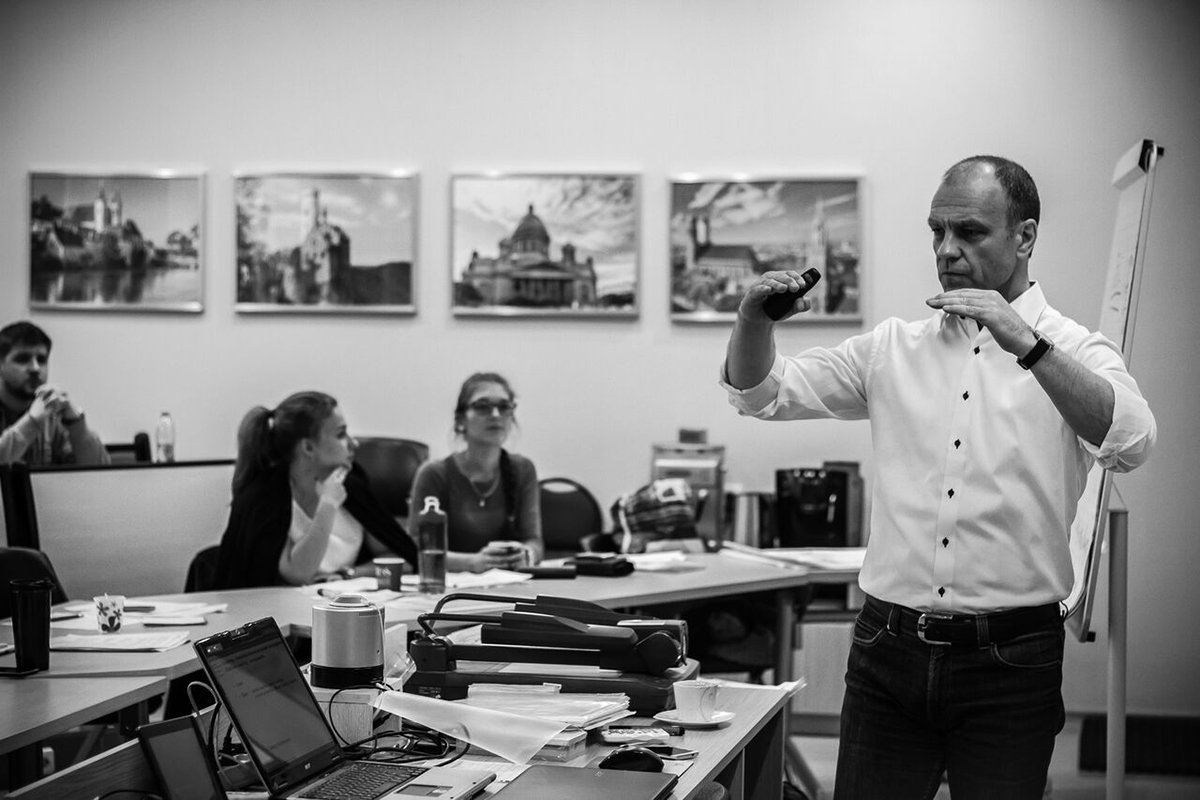 Why Technology leadership and entrepreneurship program?
Teaching is done in the format of University 4.0, which includes the opportunity to defend your startup as your master thesis.
Possibility to choose the most suitable educational track for you:

Track №1 - Entrepreneurship (tech).
Track №2 - Intrapreneurship (digital transformation).

Start-up accelerator for students who will select the first track. Moreover, we provide mentors for students who want to make their own start-up.
Possibilities to do an internship in Russian leading technological companies: CML, BIOCAD, AGC and others.
REAL PROJECTS: unique opportunity to start and develop your own business or to take part in the real industrial project.
Leading Russian and international professors, coaches, business angels and guest lecturers will help students to build entrepreneurial or intrapreneurial careers.
Experienced coaches and mentors will help and challenge you on the way to make a successful career.
Wide range of opportunities for international mobility (a semester abroad in Germany, Finland and other countries).
The program has an Expert Council, which includes leading experts in innovative and industrial business.
This program takes place in St. Petersburg, one of the most beautiful university towns and a high-tech hotspot in Russia. Students will live and study in the designated cultural capital of Russia.
Partners
Our graduates have become
Head of the Pilot Implementation Department in Russian manufacturing company "Kirovskyi zavod".
Head of the Innovation Directorate and Digital Marketing Department in one of the largest Russian IT companies "KORUS Consulting".
Founder of the project "Leela game".
Learn more about MSc Degree Technology leadership and Entrepreneurship

Contact details
Peter the Great St. Petersburg Polytechnic University
Institute of Advanced Manufacturing Technologies
Graduate School of Technology Entrepreneurship
Program coordinator: Vladimir Shchegolev
Russia, 195251, St. Petersburg, Polytechnicheskay str, 29AF, Scientific-research building, G. 3.10